Jul 11 2019
To make navigating easier, here are my Iceland entries, in order:
Jul 11 2019
Saturday, July 6, 2019
I got up at 5:40, drank tea and showered, all the while trying to be quiet so I wouldn't wake up Molly. At 8:00 I called the guy at NiceTravel and learned that we had to be at the City Center Bus Stop #1 in half an hour, not 9:00 as it said on their website, since it was their first of many pick-up spots.
The Golden Circle is as crowded as the Westfjords is remote. They couldn't be more opposite in that regard. But, desperate for more of the natural world, we wanted to see some of the advertised sights: geysers, falls, a crater. I was expecting, and found, crammed parking lots, huge buses and hordes of people, a very different group than we found in the northwest.
Our first stop was Þingvallavatn, a giant lake partly in Þingvellir National Park (a UNESCO World Heritage Site) that is home to bleikja, or Arctic char. The fish have been so isolated for so long from other char populations that they have developed four distinct subspecies, found only here. It's a sprawling body of water that's as much as 114 meters deep.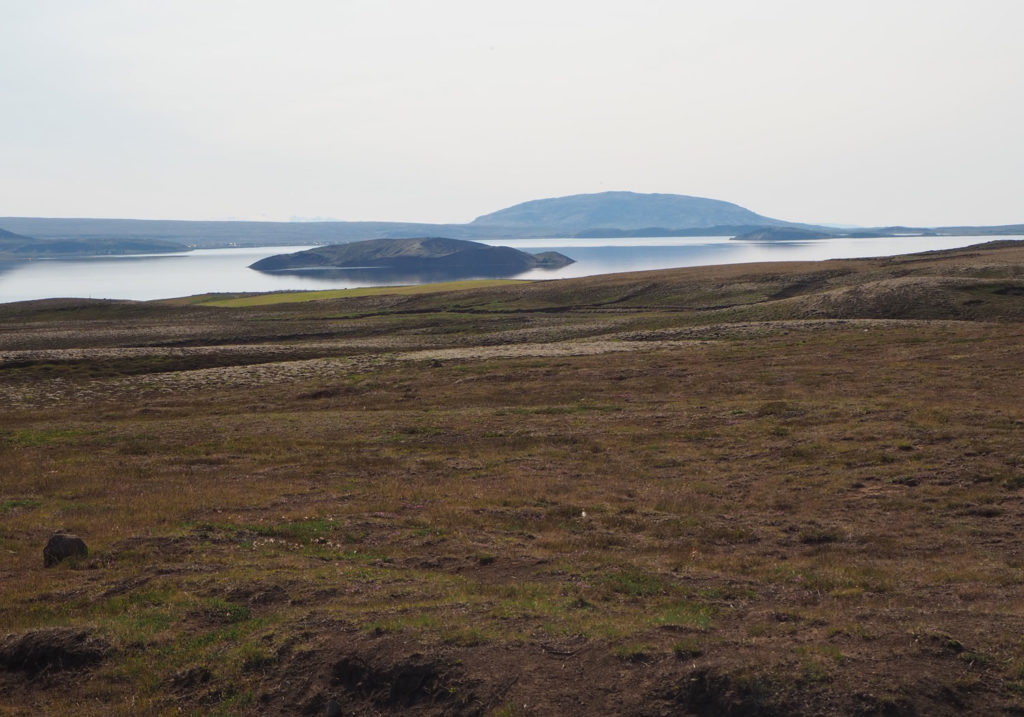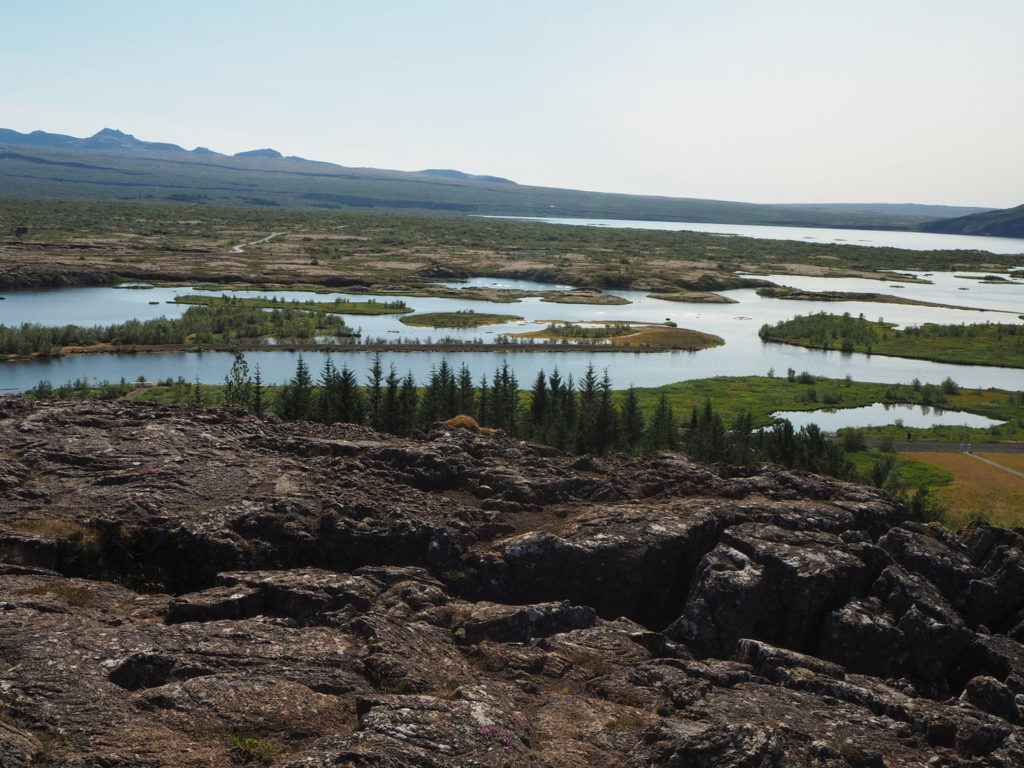 Þingvellir is a place of both geological and historical importance. We walked along a narrow canyon between two cliff faces, right at the junction of the North American and the Eurasian tectonic plates. I read that the gap between these plates grows two centimeters a year.
A little farther along we came upon a natural arena where the Vikings (whom our guide, Einar, quaintly pronounced Wykings because I guess there's no "v" sound in Icelandic) used to hold parliament (Alþingi) a thousand years ago. It was here, in about 1000 AD, that the Wykings decided officially to abandon paganism and the Norse gods and convert to Christianity.
The Vikings were brutal suckers. If you transgressed, you'd get drowned in what is now known as The Drowning Pool in the river a little below a waterfall.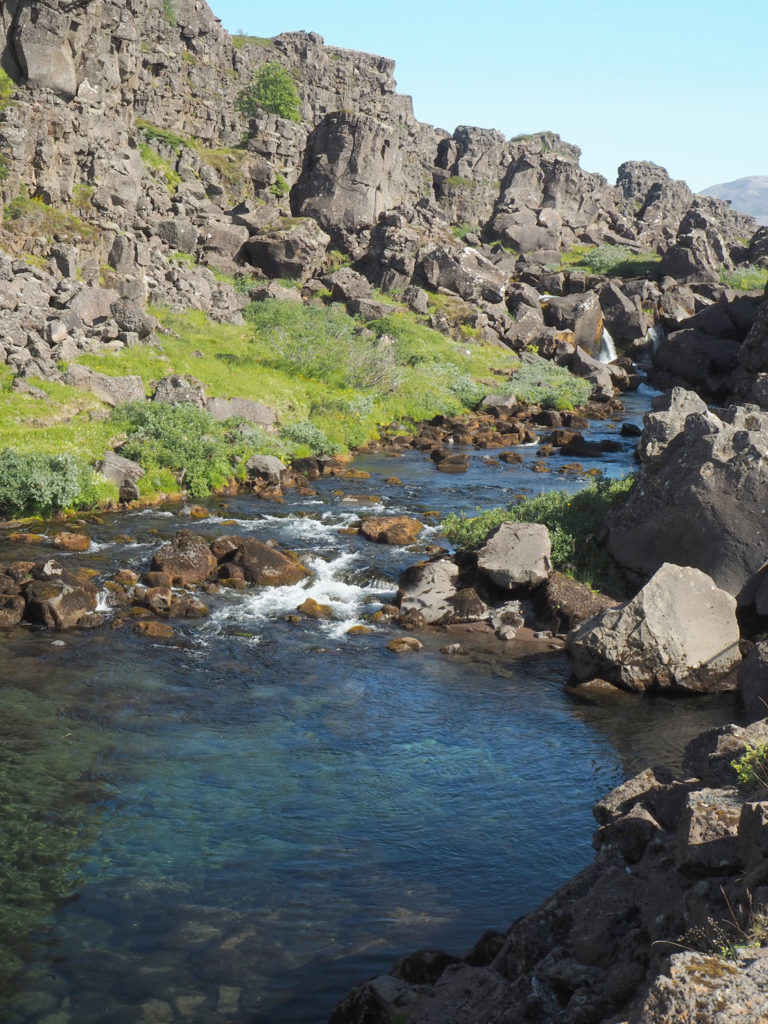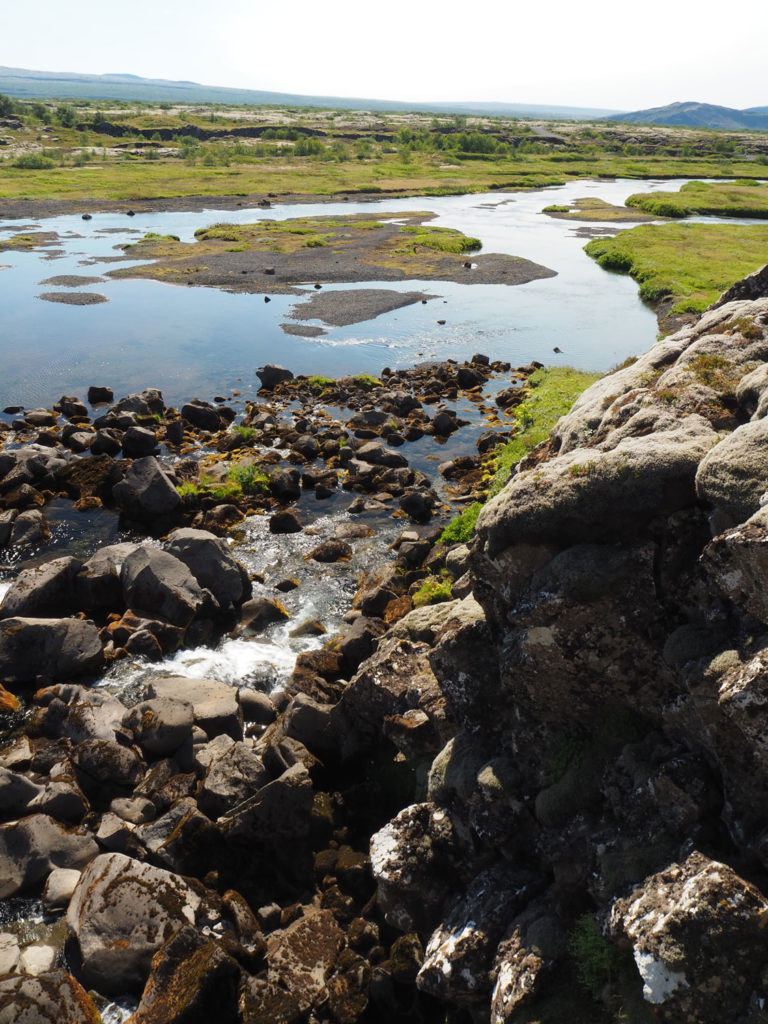 And here's the Oxara waterfall, which, according to Einar, was flowing at about a third of normal capacity.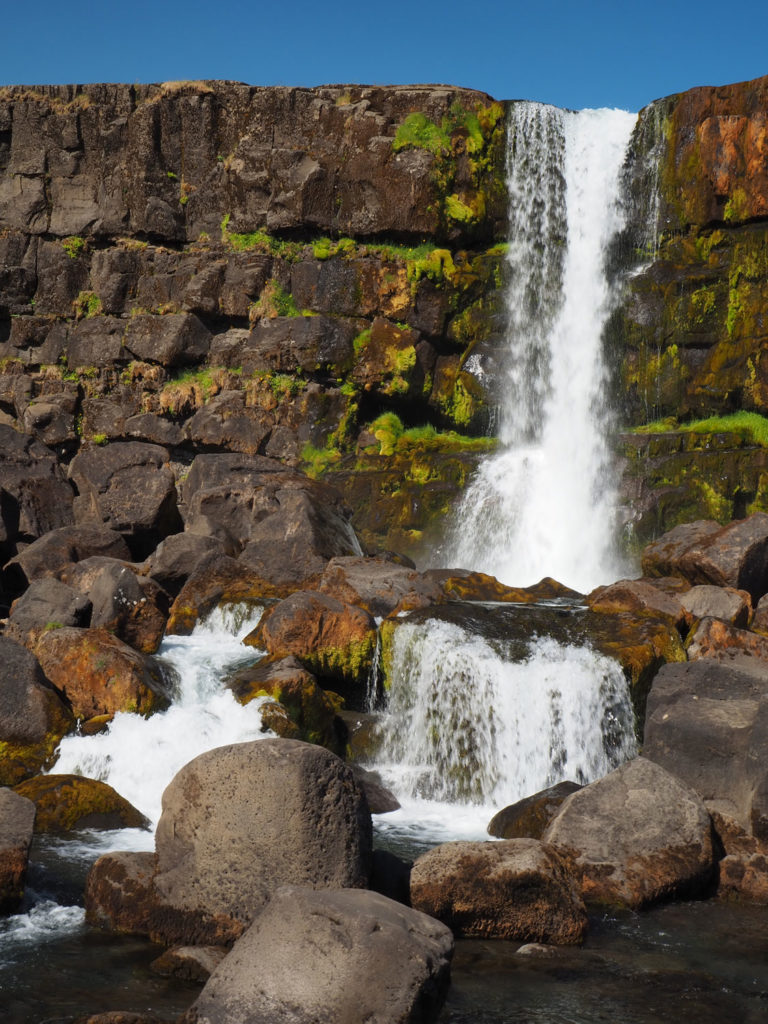 Here's the river beneath the falls: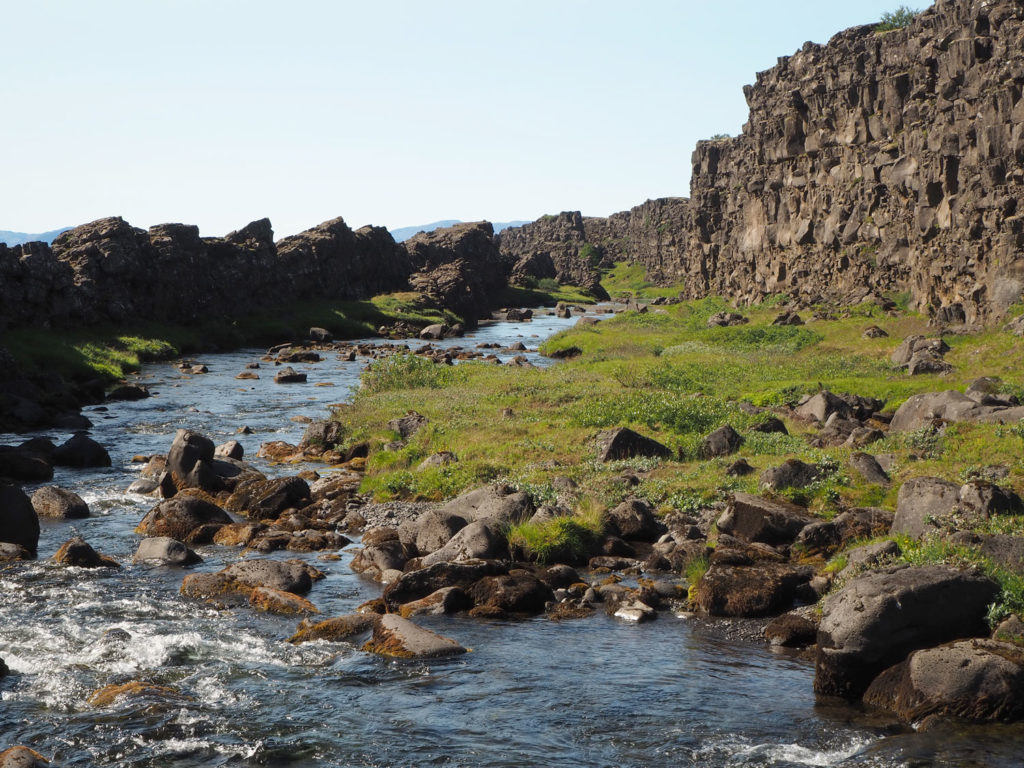 Onward, to Geysir. The biggest geyser, Strokkur, erupts every five or ten minutes. The first time we watched, we turned out to be downwind, and were startled and amused to get a faceful of sulphur water.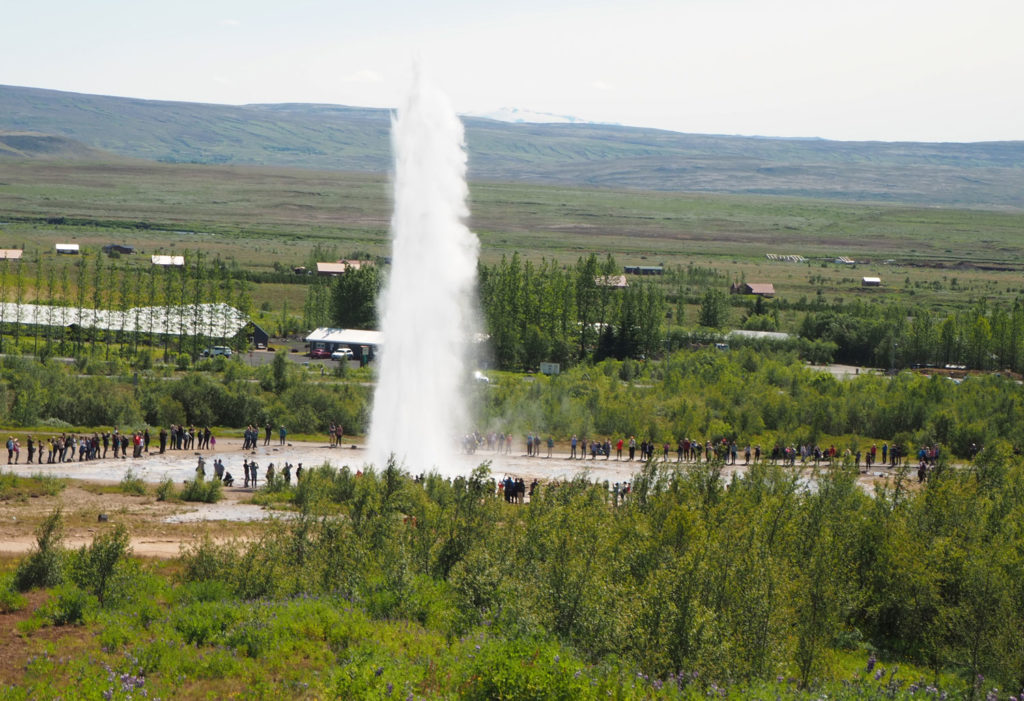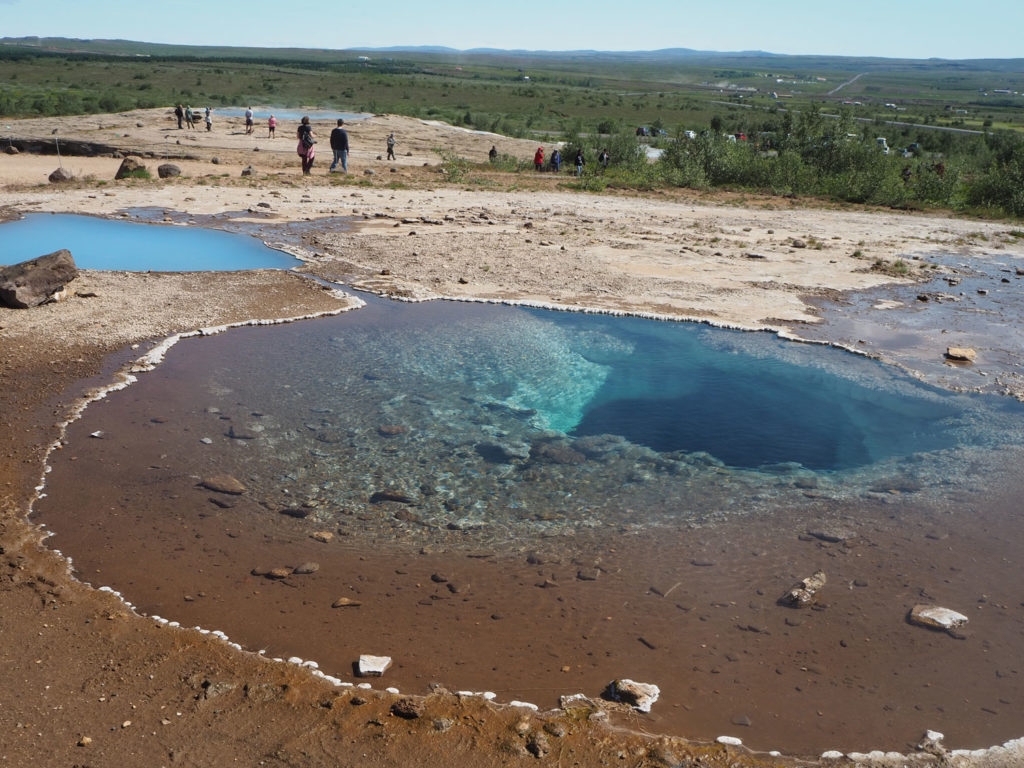 This is Litli Geysir: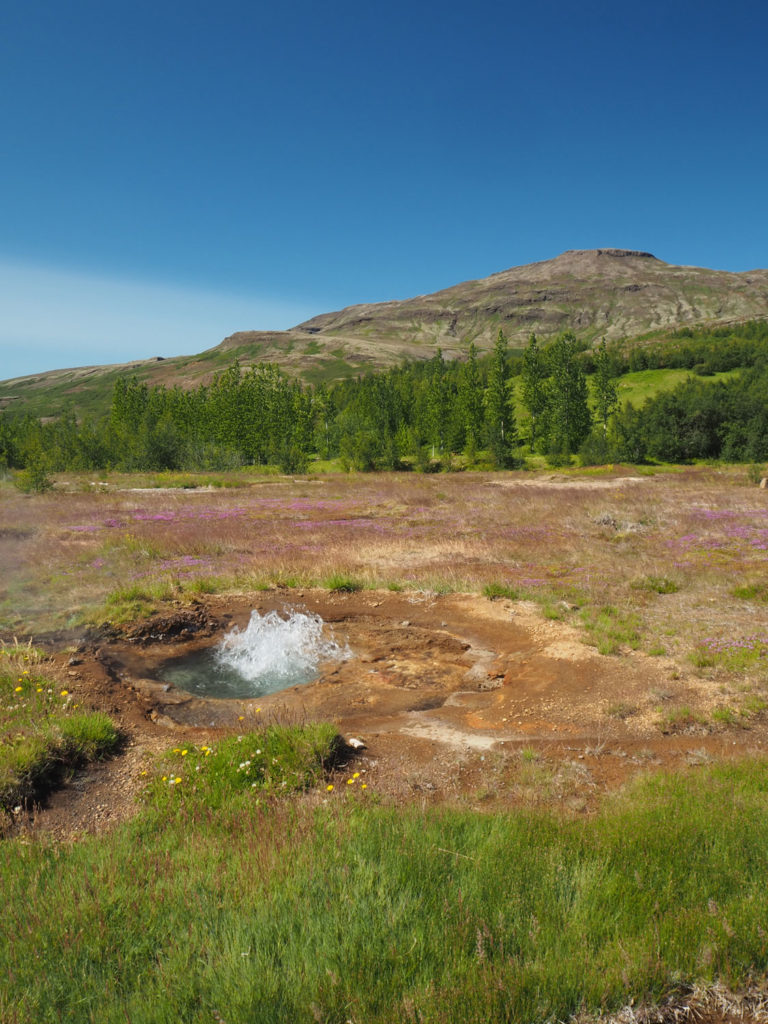 It was actually warm enough, when walking today, to take off our jackets for little stretches of time. At the Geysir restaurant, we had a delicious bowl of creamy lentil soup that cost $20.
Back into the van and onto Gullfoss (Gold Falls, named thus for one of several possible reasons, and no one knows which is right. Two possibilities: because the mist turns gold in certain lights, or because someone threw a pot of gold into the falls so that no one else would get it. You decide.)
The water was grey, silty and ferocious. Some idiots were climbing up an un-trailed, unfenced area on the opposite side of the river, where the grass slope is steep and slick with water from the falls, and where one false step would be their last. Our driver Einar turned away saying, I can't watch. Not only were these fools putting their lives seriously at risk, but they were ruining the view for everyone else. Here's the vista before that.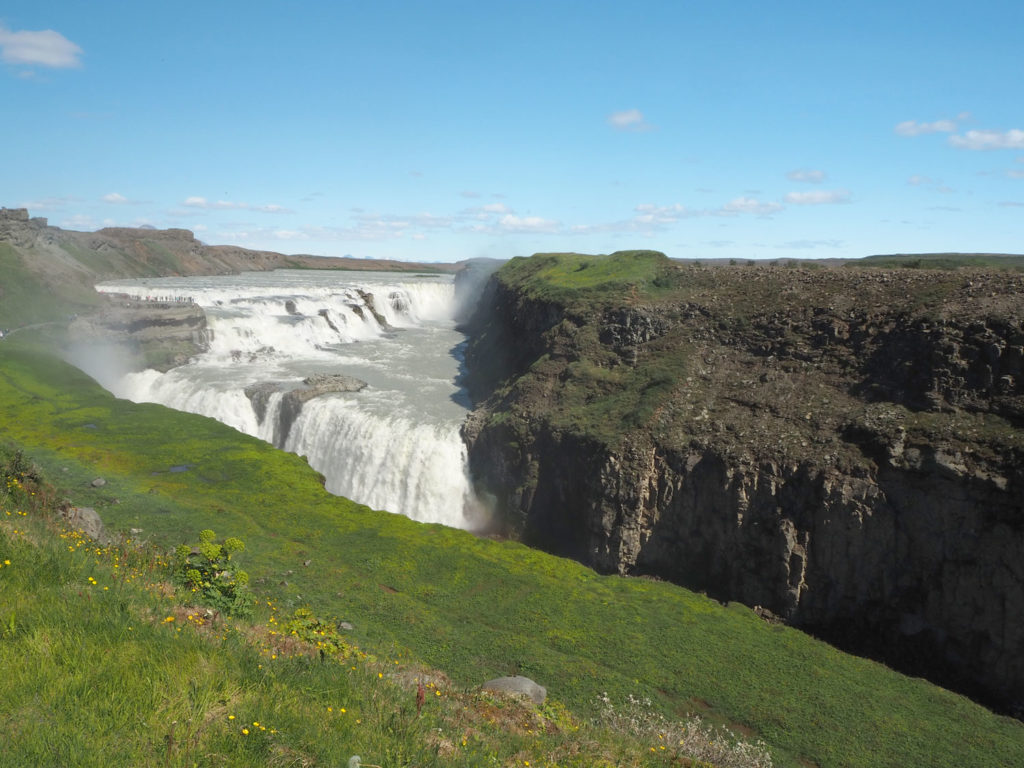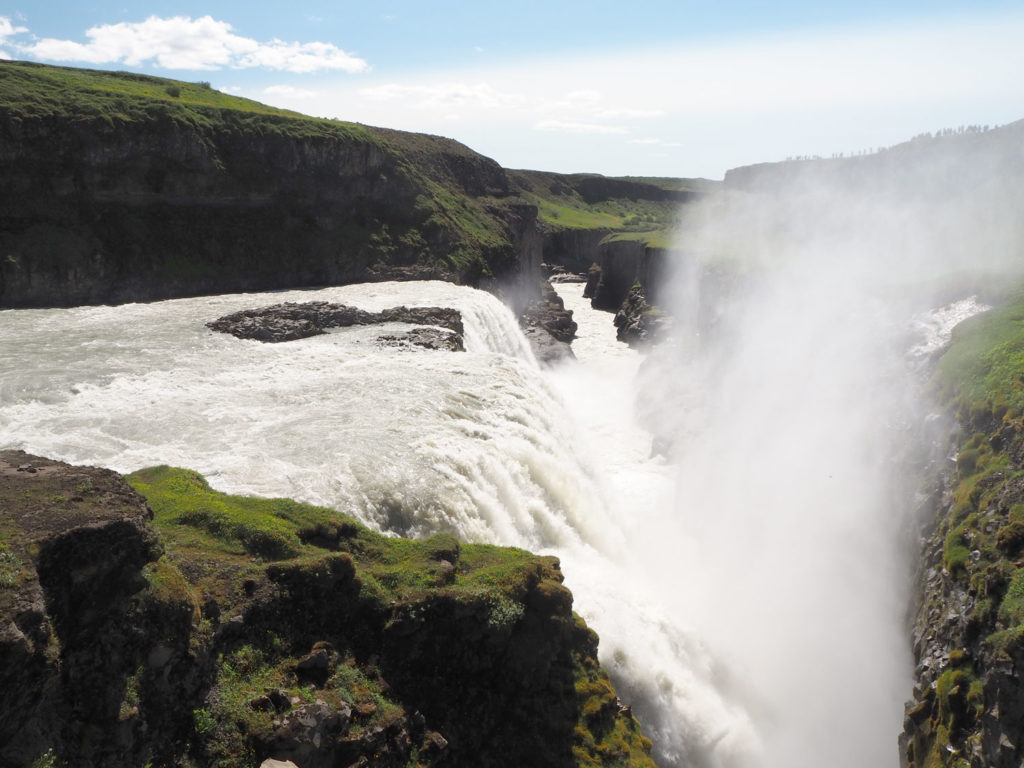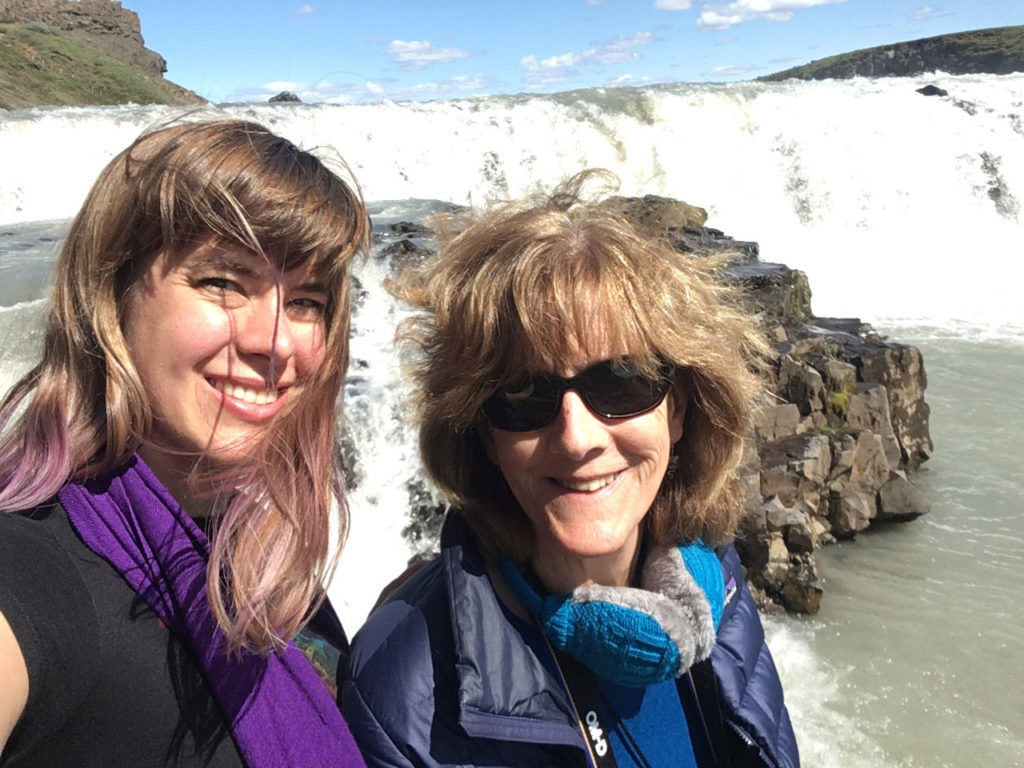 We reached our final stop, at which we arrived almost an hour later in the afternoon than scheduled due to our tardy van-mates, whom I dubbed The Selfish Seven. On every tour, there's at least one person who is a dickhead. This time it wasn't an individual. It was a large group of kids and adults that, at every stop, was ten, 15, 20 minutes late back to the van, keeping the rest of us waiting in the muggy heat of the closed vehicle. Every time they were the last back, they would applaud at their tardiness. There were five stops throughout the day, and their lateness increased each time, so that on the last one the mother, always the last back on the bus, was a half hour late. If looks could kill there would have been a murder that afternoon, as I shot her my most hateful glare. Never an apology or other acknowledgment of their selfishness. Tours make me cranky. But aside from that, it was a successful day.
Here is our last sight, the Kerið Crater: 6500 years old with (as you can see) a lake at the bottom that changed colors depending on the vantage point, from turquoise-green to almost brown. The water doesn't drain out, but instead rises and falls instead with changes in the level of the water table in the area. We walked down to and around the lake, and then up to the rim and around that.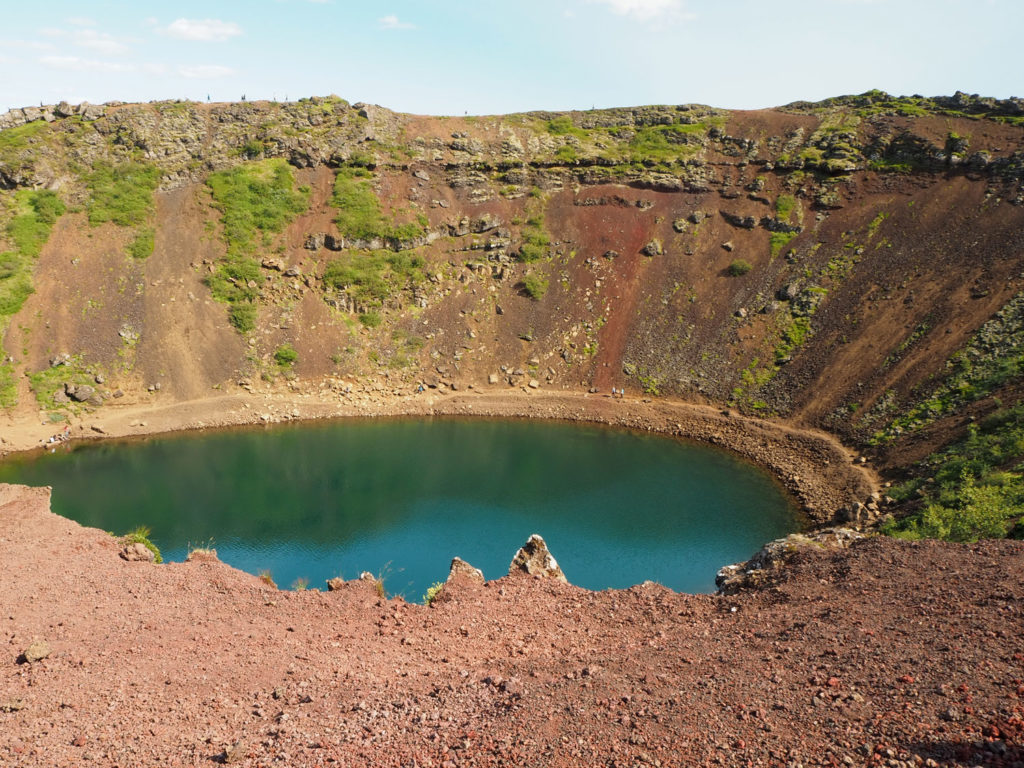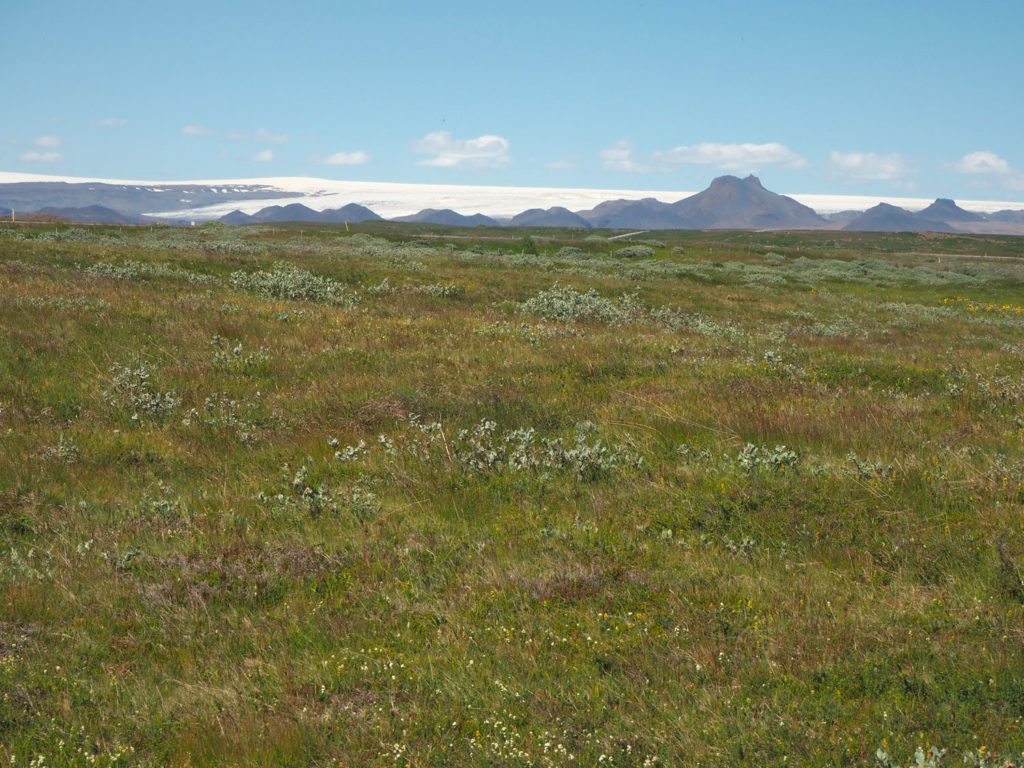 There was a fair amount of walking today. Molly's phone app, when we got back, suggested it was 6.2 miles.
First on, last off: reaching Reykjavík, we stopped at five different drop-off spots before reaching ours at City Center. Walked to our room for an hour, and then returned to town, Ginna with tired legs, for our 7:30 dinner reservation at Tapas Barinn, at which Molly had eaten on her last trip here. On the way, I identified with this sculpture.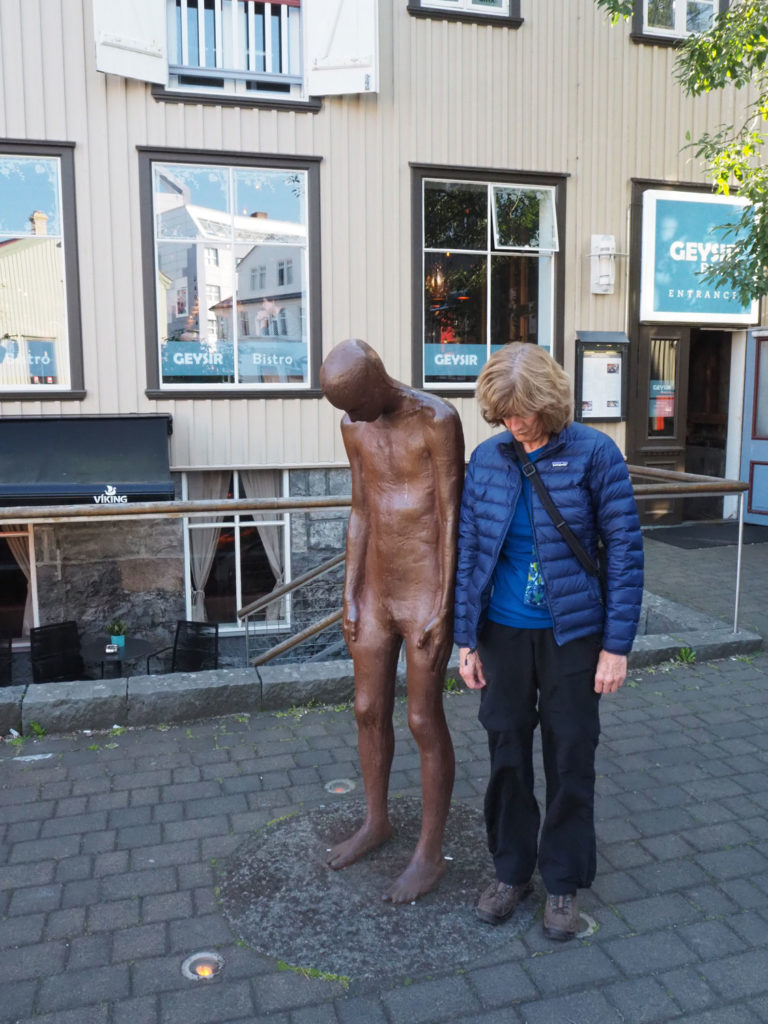 The restaurant was packed and noisy, hopping with mostly young people in their 20s and 30s. I've never eaten a longer dinner. We chomped our food from 7:30 to 9:45, when Molly finished up a rich chocolate mousse. She ordered a tasting menu with seven different mystery tapas of the chef's choosing. She ended up with quail, raw-ish tuna, beets, shrimp, raw-ish beef, scallop and bacon in a weird froth, and one other thing. I, being very picky, carefully chose two plates that didn't offend me: salmon with red pepper sauce, and lobster orly, which was deep-fried in an airy but rich batter. I couldn't eat it all. I ordered a daiquiri, certain it would not have fresh ingredients, since how could there be strawberries in Iceland? But I could swear that those berries were indeed fresh. They do have greenhouses all over, heated with geothermal energy, so maybe. The dragonfruit on the top was delicious.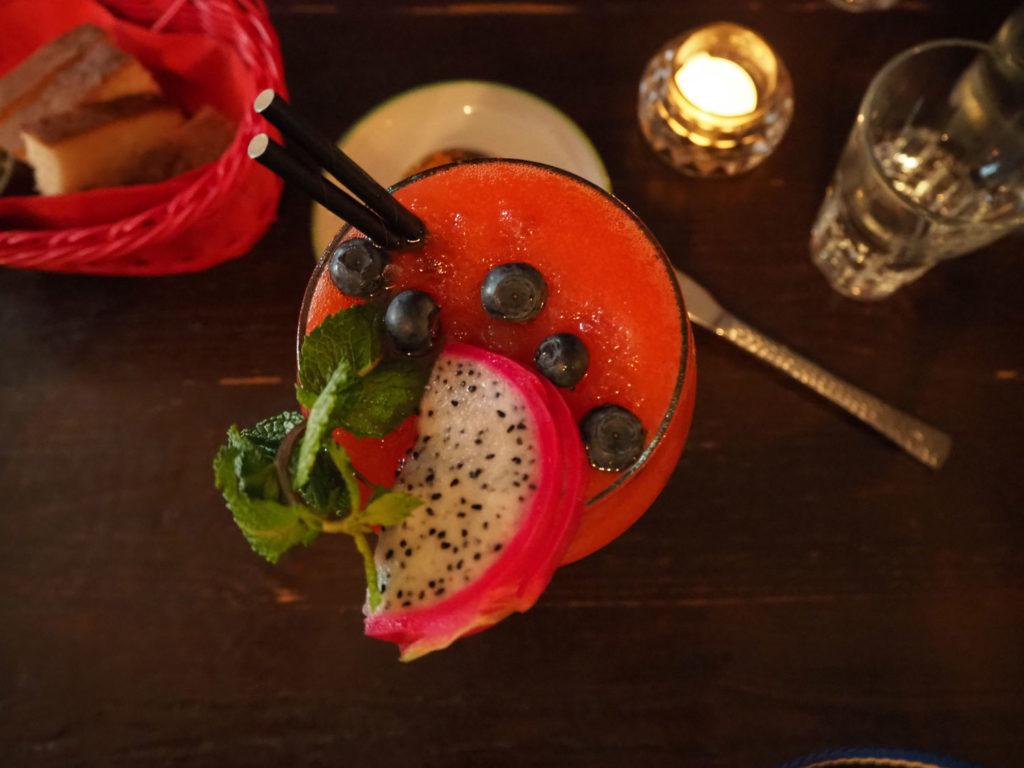 On our return to the room, I packed, had a brief video chat with my beloved granddaughter Ember in California, and wrote two TripAdvisor reviews: for NiceTravel and the Hótel Látrabjarg. Bed at midnight.
Jul 11 2019
Friday, July 5, 2019
What the Icelandic woman said to me turned out to be true: all you have to do to board Air Iceland Direct from Ísafjörður to Reykjavík is say your name so they can check you off a list. No ticket, no ID, no showing up much in advance. The prop jet (about ten rows long) got us into Reykjavík in only half an hour. Fortunately we flew into the little airport right near downtown, as opposed to the international one 45 minutes away in Keflavík.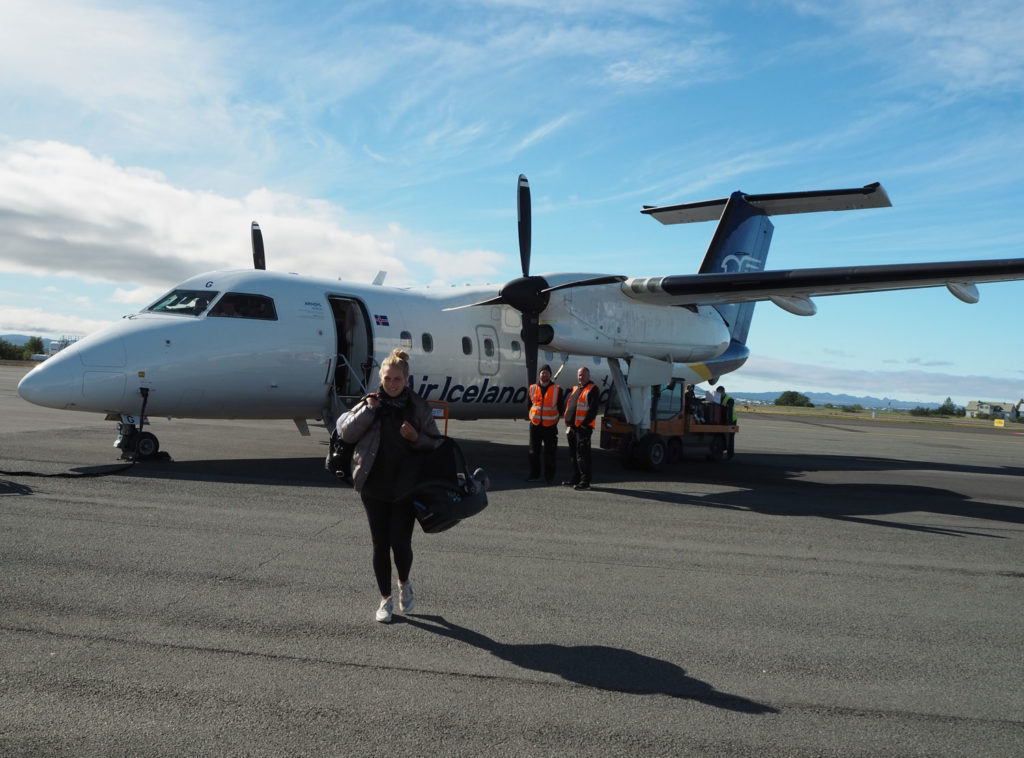 On landing, Molly spent twenty minutes researching things to do nearby, to pass time till we could check into our AirBnB at 1:00, a few hours hence. We stowed our luggage (Molly hoisting my seemingly rock-filled suitcase to shoulder level to reach the locker) so that we didn't have to, uh, lug it.
The minute I stepped out of the little airport and onto the street, I had a sinking feeling. I had neglected to prepare mentally for the shift from remote, wild beauty to crowded city. If I knew magic, I would have transported myself back to the Westfjords in a nanosecond.
We ended up walking 1.2 kilometers to the Nordic House, a public library designed by reportedly "acclaimed Finnish modernist architect" Alvar Aalto, born in 1898, died in 1976. There were two aspects that I thought were particularly cool:
A children's reading "grotto" with Moomintrolls painted on the walls and small wooden structures (such as a miniature Viking ship) that kids can clamber onto for reading. There's shelf upon shelf of colorful children's books in a bunch of Nordic languages (seven, according to Nordic House website)—but for some reason, not in Icelandic!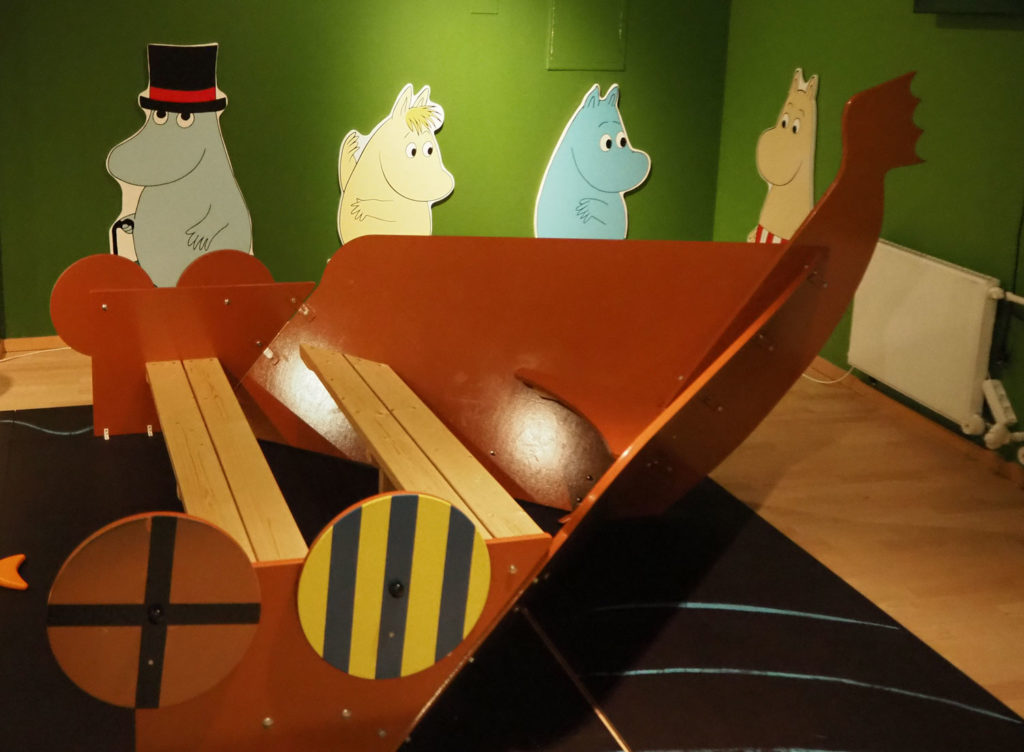 The artotek, a lending library of framed artwork: big and little prints, mostly modern, abstract interpretations of scenery, faces and other things, often in black-and-white (which I guess goes with everything.) A member can check out up to three works for up three months. What a fabulous idea.
Adjacent to the library areas and a concert hall, there's a highly rated restaurant, AALTO Bistro, where we had American-sized servings of plaice and yellow roasted beet root (the latter were not my friends).
This is what the Nordic House website has to say about the restaurant:
For years, the renowned chef Sveinn Kjartansson has been showing viewers of Icelandic television how to make the most of the country's natural food sources, especially its impressive range of seafood. Now, visitors to AALTO Bistro in the Nordic House can sample for themselves the work of this creative chef, in the form of delicious and delightful fresh lunch specials and during the day.
Speaking of Sveinn Kjartansson, I learned something interesting about Icelandic given names. There is a registry of approved first names, and, should you have a baby in want of label, you have to choose from this list of established monikers. (Monikers, because I didn't want to use the word name three times in one paragraph, you see.) That, or you have to petition the Icelandic Naming Committee (established in 1991) for approval. According to Wikipedia:
A new name is considered for its compatibility with Icelandic tradition and for the likelihood that it might cause the bearer embarrassment. Under Article 5 of the Personal Names Act, names must be compatible with Icelandic grammar (in which all nouns, including proper names, have grammatical gender and change their forms in an orderly fashion according to the language's case system). Names must also contain only letters occurring in the Icelandic alphabet, and with only occasional exceptions, a name's grammatical gender previously had to match the sex of the person bearing the name.

Wikipedia
And also, did you know that in the Icelandic phone book, everyone is listed by first name, and that it's the accepted practice to call people by their first names: students talking to teachers, patients to doctors, employees to bosses?
So anyway, we walked back to the airport, apparently looking like locals, because an Icelander stopped his car to ask us for directions. Even in the U.S. a sane person doesn't ask the likes of me for directions. Molly smiled, shook her head apologetically, and said two words: Sorry, English.
We caught a cab from the airport to our lodging with a driver who was only the second person I've encountered who doesn't speak English. People here typically speak at least three or so languages. In addition to Icelandic and English, they learn another Nordic language in school.
Our silent, surly driver took two one-way streets the wrong way to get us to our destination. We arrived half an hour early so we hauled our suitcases across the street to a park in front of the only Catholic church in town (Landakotskirkja, also known as Kristskirkja) where we wrote in our travel journals for a bit.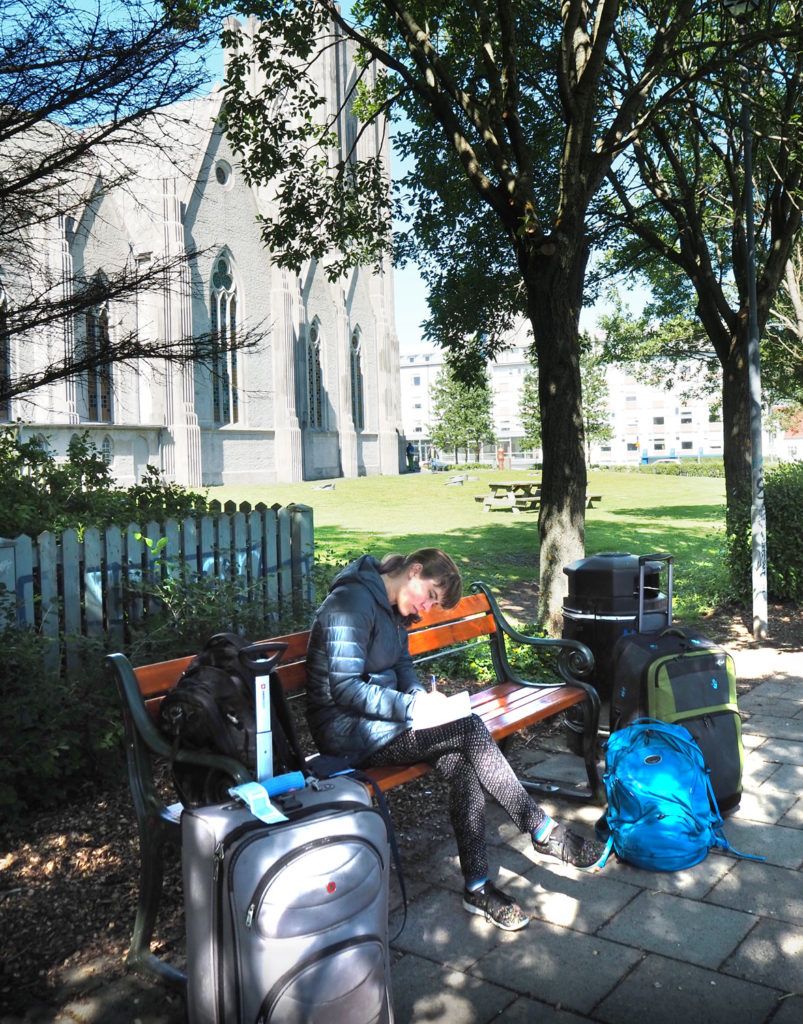 We're staying in the district of Reykjavík called City Center 101, near several embassies. It's a ten-minute walk to the heart of the town. After figuring out how to open the complicated door lock to our AirBnB and dumping our burdens inside, we headed there. Molly led the way along the scenic route without benefit of Google Maps, remembering something about where she was, having visited two years ago. We got to the main drag, an experience that underscored my unhappiness at being in an urban environment: shoving crowds of people that we had to weave assertively through. Rudeness, aggression, impatience. The marked friendliness of the west is not in evidence on the streets of Reykjavík, whose name, by the way, means Bay of Smoke.
There were two places Molly wanted me to see, and we made it to both of them, she feeling her way along mostly by instinct, with the occasional glance at the iPhone.
There was the gy-matic Lutheran church, Hallgrímskirkja, in the center of the city, the iconic landmark that dominates the landscape. (The majority of Icelanders are Lutheran.)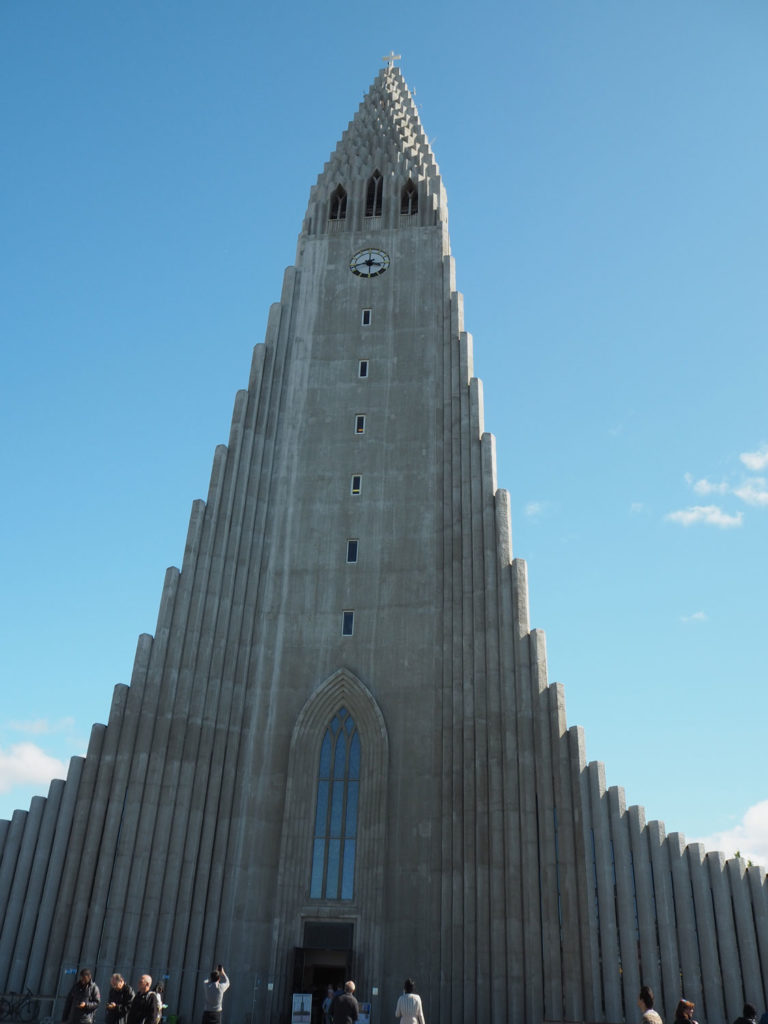 For eight dollars each (1000 króna), we had the privilege of riding a small elevator up about eight floors and climb one more flight for panoramic 360° views of Reykjavík.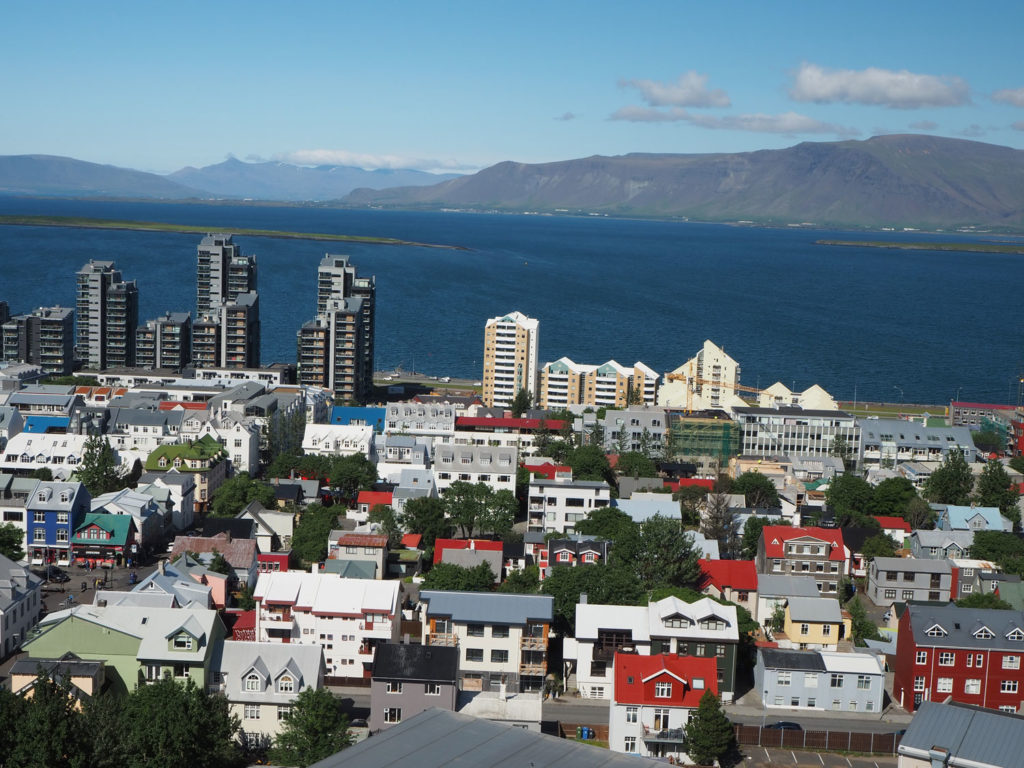 I saw these words on a building and was impressed: Mennta-og menningarmálaráduneytid. Oh, lookee here. It looks to be Iceland's Ministry of Education, Science and Culture.
The other place Molly wanted me to see was Harpa, a modern, glassy concert hall toward the center of town.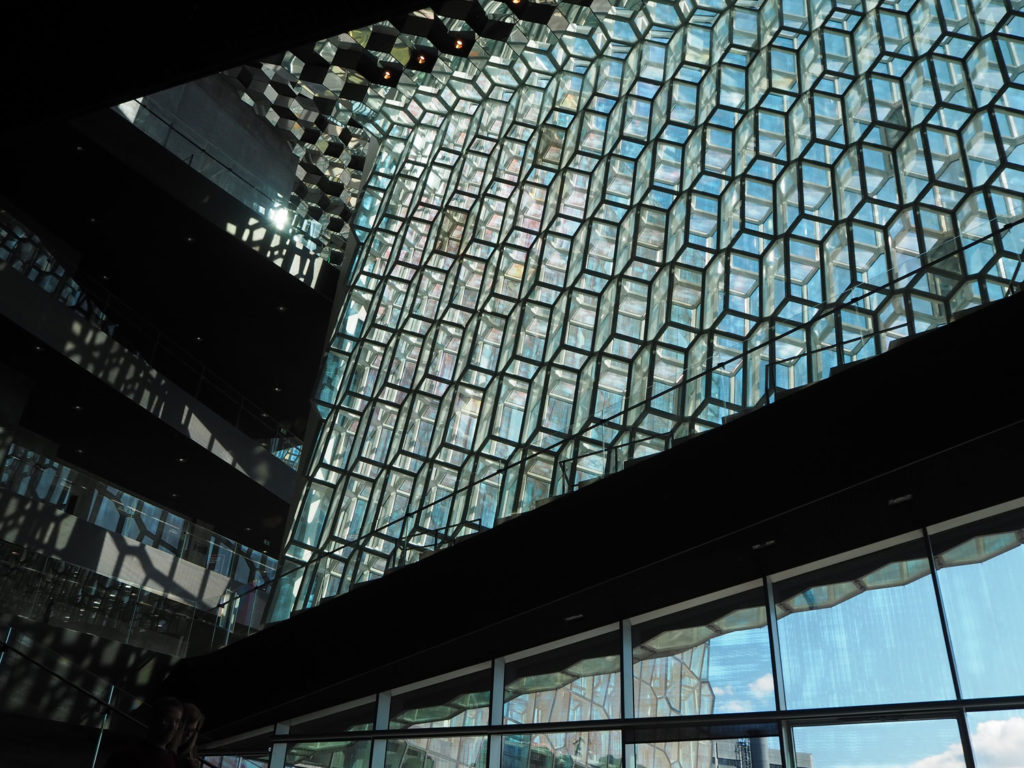 We returned to our studio to recuperate from the seething masses of humanity. We have dinner reservations for the next two nights, which we'll need because of the local crowds. On Molly's iPhone we perused dozens—nay, scores—of restaurant options. Some places served things like minke whale, puffin… and horse. I sipped the beer I bought yesterday and realized with horror that I'd accidentally gotten a porter. The only good thing was its name: Myrkvi, which means Darkness caused by a fog, storm, or the like.
We left myrkvi behind us in Ísafjörður, and here encountered sun and higher temperatures. It must be in the 50s today. And while it never seemed to get dark while we were in the northwest, tonight the sun is supposed to set in Reykjavík at 11:50, and then to rise at 3:16.
Off to dinner at Gott, which advertises fresh ingredients and all-homemade sauces. For the second time today, I had catch-of-the-day. This time, it was salmon.
Back home at around 9:30 p.m., I posed a question to Molly: is there anything we can do that gets us out of Reykjavík for the day tomorrow? Because I'm sure ready to be someplace else, especially involving nature. I looked into a couple things online but got overwhelmed. Molly took over the research, fingers flying across her cellphone's tiny keyboard. She considered the "Inside the Volcano" tour, a hike up to a dormant crater at whose top you get lowered 400 feet down into the bowels via metal platform. We opted instead to do the most touristy thing in Iceland: The Golden Circle. We refused to ride on one of those huge tourists buses, so we looked for the smaller van tours. All the smallest ones were booked, and in the end we grabbed the last two seats on a van holding nineteen, run by a well-reviewed company with the unfortunate name of NiceTravel.
To bed at 11:00 to be ready for an early-ish start.