Mar 31 2017
Whuh? Two posts in one day? It cannot was.
I just want to tell you about tetratychs. They're four-paneled paintings. You can also call them, more generally, polytychs.
I did one, and just finished it today. I should probably post the paintings separately, but here's the collective photo.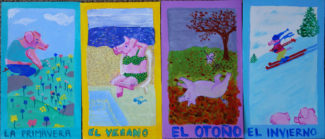 That's all I'm willing to say at the moment.