Sep 24 2016
I'm home. Suitcase is unpacked. Laundry is done. Bills are paid. E-mails are caught up. I fixed the blog so trip photos pop up bigger in new windows. With my granddaughter I've baked a strawberry cake (from a mix) that's shaped like a beehive. I've talked to Maw for an hour and a half. Bug bites are less itchy, bruises dissipating and sunburn fading. Life is back to normal.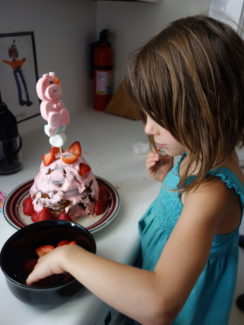 Molly sent me her documentation of our trip, and I decided it's not too late to include a video of me climbing up to the treehouse, so you can see how the contraption worked. It was slow going. It took me about five minutes to get to the trap door, 80 feet up.
And here's the process of sliding down, much quicker than the journey against gravity:
Peter, creator of the treehouse, posted this message on AirBnB about us:
"Molly and her mom are your dream guests. Wonderful people with great sense of humour and adventure. Hope to see them again."
The feeling is mutual.