Sep 23 2016
I hope that this is the last morning that I wake up before dawn. This time it was 4:15, though my alarm was set for 5:00.
I packed up one final time, feeling heavy-hearted that the trip and my time with Lulu are over. I woke her up at 5:30 to say goodbye, and the Very Good Girl got right up and helped me carry my heavy suitcase up four sets of slippery stone stairs to where I met up with Berni, who brought me a bagged breakfast and called me a taxi, which arrived in about two minutes. I couldn't take my eyes off my wee one as she waved goodbye.
The traffic was already a little funky between my hotel and the airport, so I'm glad I left a bit early. At the airport, I found a seat next to a Tico family and ate the breakfast I'd been given. They were very friendly, chatting a mile a minute to me in Spanish. I nodded and smiled and said, "Sí sí," so I hope they weren't talking about dead relatives or war or something. The matriarch of the family showed me a scar on her chest and told me she'd had open heart surgery a year and a month ago. I understood that because of the visuals: what we in the ESL profession call realia. She asked me a question that I'm not sure about, and I thought the safe answer would be to tell her I have two children and two grandchildren, because that's the limit of my language production ability.
Once through security, I killed time by writing yesterday's blog post. The flight turned out to be 45 minutes late because the crew had gotten stuck in the San José traffic. On the plane, I had an experience I haven't had for twenty years: I had three seats to myself. At one point I stretched out across all of them and used my backpack for a pillow: luxury! Somehow the pilots made up the lost time and we got to LA on schedule, which is good because I had to go through customs and all that. I tried Global Entry for the first time. Instead of waiting in a line, I just went to a kiosk, inserted my passport and put my fingers on a window to be scanned, and I was done. I don't know why they make people go through security again, but at least I had TSA pre-check, so it was fast.
My plane to San Francisco was about 45 minutes late, but after landing here, my bag appeared on the carousel pretty quickly and I went out to wait for the Bayporter shuttle home. I stood in the biting, windy cold for another 45 minutes, and finally my driver showed up, absolutely furious. He'd been stuck for three hours in a traffic jam downtown. It turns out, this was the scariest part of my trip. When the traffic was moving, he bombed along at 75 m.p.h., weaving between lanes dangerously close to other cars and to the center concrete divider. He kept slumping over as if to sleep, and rocked forward and back in his seat as though he were on a bucking bronco. He fumed the whole way, and kept saying how dizzy he was. It look nearly two hours to get home, and boy was I glad to be out of that vehicle.
As soon as I got home I called Eleni and made arrangements to see her this weekend. I had the longest talk with Emmy, telling her about all the animals I saw. She seemed to be engrossed in my descriptions of natural wonders seen, adding her own details about what she knows about various fauna, gleaned from her watching public television. It'll be so great to see them in a few days.
And with that, I conclude my epic tale of the trip to Costa Rica. It's not likely that you'll see me back on Bloggy for a while, so I bid you adios and thank you for reading. Actually, I don't think anyone reads this, and so I write mostly to preserve memory that would otherwise fade. Fare thee well.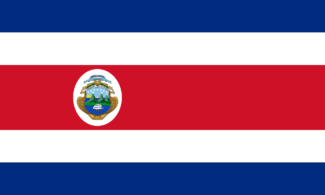 One Response to "Return"