Sep 22 2016
I got up at 5:00 to pack up and get ready to leave Puerto Viejo. A van picked us up around 6:30, bound for Siquirres, the start of our whitewater adventure. There, we offloaded our luggage and had a breakfast of eggs, fruit, and pinto gallo (the traditional Tica dish of rice with beans), and then headed up the mountain toward the headwaters of the Río Pacuare, a wild class III and IV river. Yes, once again I was nervous, even though I've rafted quite a bit in recent years. But on one of those past trips I was thrown out of the raft in a hole in the river, and got sucked under the boat and had a hard time finding my way back to air. So I was concerned about remaining aboard, an anxiety exacerbated by the guide's explanation of all the dangers of falling in.
On our boat was our guide, Andrés, and four other tourists, all very nice and friendly. One was a giggly flibberty-jibbet who took the left-front position, which is where the most expert rafter should sit, since s/he sets the pace for all the other oarsman. But lots of times, she was too busy chortling and chatting to respond to our guide's commands to row. After each rapid she'd shriek, "That was sooo cool!" It was nice to see her so thoroughly enjoying herself. In the slow spots in the river, she'd jump out and go swimming over to flirt with the cute young safety kayakers who accompanied us down the river. She'd been scheduled to fly out of Costa Rica a few days ago, but the airport was closed because of an eruption of El Volcan Turrialba. We'd seen it spewing grey smoke on our way to the river. Dramatic.
The setting was spectacularly beautiful, as we raced through primary rainforest still inhabited by indigenous Costa Ricans, who weren't in evidence today. It's said that the Río Pacuare is among the ten most scenic rafting rivers in the world, with 38 rapids in the section we traveled.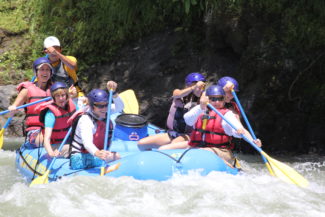 At one point we drifted under a branch overhanging the river, and beheld a tarantula descending immediately over our heads, hairy legs waving. Yeek. Our guide had the nasty habit of sounding panicked as we careened through the rocks and waves: "Watch out!" he'd call. "Oh no! Be careful!" Maybe he thought that would make our journey more exciting, but the wild water provided all the thrill I needed, thank you very much.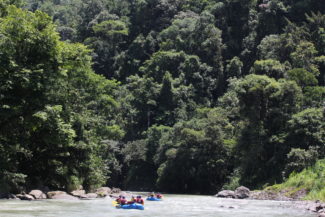 After racing for two hours through rapids aptly called things like "Rodeo" and "Pinball," we made our way to the shore for lunch of self-serve vegetable, bean and cheese wraps, and for a necessary reapplication of sunscreen. By that time, my leg-tops were scarlet from the sun.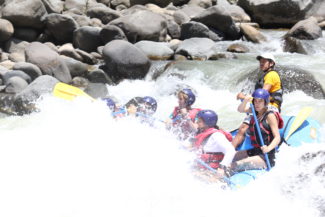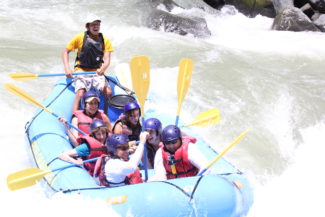 After lunch, Molly took a position at the front of the raft where you get the wettest, going face-first into the waves. She seemed to enjoy herself. Light rain and cool winds made me goose-bumpy. We saw a bunch of water birds. In a few places, ancient rotting foot-bridges used by the indigenous population crossed overhead. Along the shore was the usual dense tropical vegetation: various palms, banana trees, giant-leafed bushes.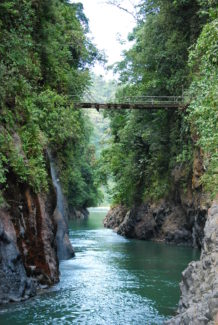 After about four hours and 30 kilometers on the river and the final rapid, called Lost Gringo, we returned to shore, climbed into dry clothes, and set out toward San José. We were in the Hotel Pura Vida last night, and tonight it's the Pura Vida Hotel in Alejuela.
The drive took about three-and-a-half hours, through torrential rain, along winding roads. The traffic was horrendous, particularly as we approached the city. It was every bit as heavy as Bay Area traffic. The van dropped us at the same Denny's where I started my journey twelve blog entries ago, and from there we caught a taxi to our hotel. Since it was dark by then, I couldn't really see the setting of the hotel, but I think it's pretty, with a giant garden and lots of trees. This lodging is a two-bedroom, two-bath unit with living room and kitchen. Too bad we're not staying longer.
After settling in and checking into my flight online, we went for flautas at a little Tex-Mex place recommended by Berni, the hotel's helpful proprietor. We had the last of our wonderful fresh tropical fruit drinks that we've had throughout the country. We'll miss them. I tried a margarita but it was too strong to drink.
Back in the room, over farewell glasses of wine, Molly and I looked at the videos she's taken on the trip, and then I retired around 9:30 in anticipation of an early morning journey to the airport.
I'm sore all over: sore arms from rowing and climbing up to and down from the treehouse, sore feet from the raft, sore butt from the horse ride, sore legs from hikes. I'm polka-dotted with bug bites and bruised from snorkeling and canyoning. This is an indication of a good time had all 'round. What an adventure. I'm sorry my time in Costa Rica with Molly is over. It's been such a treat to see the country and spend time with my girl. I'm glad I have a visit with Eleni to look forward to on my return.