Jul 21 2015
If I do say so myself, I am pretty good at identifying the subject matter of Ember's artistic creations. There was the drawing that everyone said was a centipede, but I knew at first glance that it was a dog. And then there's this PlayDoh creation: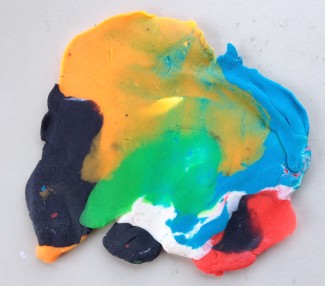 When Em showed it to me, I guessed it right away.

Loading ...
(I'll give you the answer at the end of the post.)
I was just walking through the Safeway parking lot with an armload of fizzy water, grape juice, potatoes and asparagus (my dinner for tonight) when I overheard two people engaged in a spirited conversation. The man said something that was, apparently, unbelievable to the woman. The woman replied, "Shut the front door! You get outta town!" I wish I could remember that so I can say it to someone, in my hour of need.
My mother is a master of the backhanded compliment. She sent me an e-mail today about a mutual acquaintance. "[He] is a sweetheart — a dear, little Banty rooster."
Life without Molly in the house remains a source of sorrow, but I'll get used to it, I suppose. Last weekend I visited her at her new digs (a nasty 1.25-hour-in-good-traffic drive down the dreaded 880 freeway), where she seems very happy. The next day I had a lovely visit from Eleni, Jason, Emmy and Jesse. Emmy seems most contented when I'm sitting awkwardly and uncomfortably on the ground near whatever activity she is engaged in.
I'm leaving town on Friday night. I sure am dreading the red-eye. To ease the difficulty of the journey, I will bring: a neck pillow, a back pillow, a butt pillow, eye-coverers, a bandanna to hide my gaping maw as I try to snooze, and most importantly, sleeping pills aplenty.
Correct answer to the PlayDoh poll: A car. Duh.