Apr 10 2008
I ended up playing hooky yesterday to go to the human rights demonstration in San Francisco.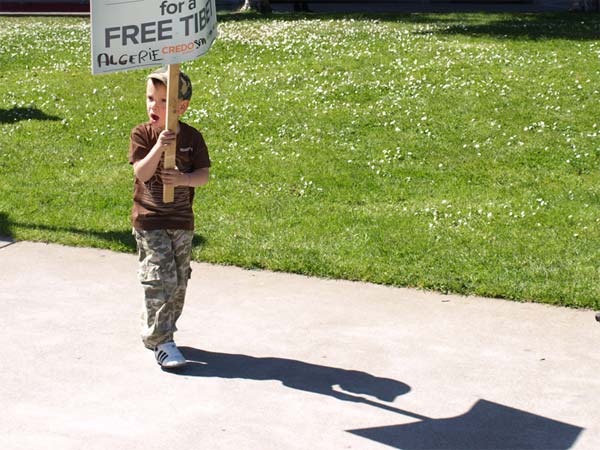 This excerpt from today's Christian Science Monitor gives a little context for the protest.
In Beijing, officials have expressed dismay that the torch has run into such political turmoil.

"People should respect the torch because it represents the common aspirations of all peoples," BOCOG spokeswoman Wang Hui argued this week. "It represents the Olympic spirit."

Other observers, though, say that controversy was inevitable, especially when people like the top Chinese diplomat in Britain carried the torch in London.

"For protesters, it represents the Chinese state and nothing else," he adds. "The Chinese are investing so much meaning and symbolism in the relay that people are bound to fight over it."

"Right now, the torch is being seen as a symbol of oppression," says [a] PR executive, who asked not to be identified because of the sensitivity of the issue.
When I arrived around 11:00 there was already a huge and vocal pro-China contingent but only thin patches of others.
I'd signed up for a text-messaging service from Team Tibet, the biggest pro-Tibet group there, so my cell phone kept buzzing with reports from the rally's front lines:
Good morning. What a beautiful day. Default meeting place is Ferry Park… 150 Tibetans have reached AT&T Park. Lots of police and pro-Chinese there… Remember to stay nonviolent and effective.
Gather at Ferry Building 11:30… March of 400 heading south on the Embarcadero form Ferry building…
There were tense shouting matches — and elbowing and pushing — between the pro-Tibet and pro-China groups, but luckily it didn't escalate.
March of 1000 have taken both lanes of Embarcadero heading south… Full length of Embarcadero being shut down.
Pedestrian barricades being put in place… March has surrounded "official" bus at Embarcadero and Harrison.
That was an interesting moment. On a street closed to traffic, a tour bus — complete with police escorts — tried to slip by. There were immediate cries of "There's the torch!" and "Stop the bus!" and a thundering of protesters trying to catch up to it. A dozen people hurled themselves in front of the bus, while others encircled it, pounding on the sides and chanting, "Shame on China! China is a liar!" A motorcycle cop at the rear kept yelling, "Let it go by. The bus is empty." No one believed him. And once out of sight of the protesters, the bus, Trojan-horselike, did indeed disgorge torch runners.
That flame acted just like the Holy Grail: appearing on a distant horizon, only to vanish at our approach. With each new presumed sighting, the entire crowd turned as one unit, each of us like a scale on a gigantic, confused halibut.
100 SFPD with gas masks gathering at pier 48… Torch location: Shed near parking lot across from McCovey cove… Torch is moving to opening ceremony. May be inside stadium. Torch on police boat in McCovey cove. Not moving yet… Torch lit at Van Ness & Pine. Going up Van Ness to Bay Street… Torch just crossed Lombard and Van Ness, left on Bay… Possible 2nd torch at Bay and Gough… Torch bearer at Van Ness & Chestnut just pulled out Tibetan flag!! Had torch taken away… Fillmore and Marina: People swarming torch. Riot police mobilized… Torch is entering the Presidio heading west.
Eventually protesters from all sides joined torch-spotting hopefuls at Justin Herman Plaza to wait for the flame's arrival. We waited. In the throng of about 10,000, things got tenser. People with huge Chinese flags tried to wrap them around Tibetan symbols — flags, signs, Dalai Lama images. Tibet supporters responded with taunts of "Killer!" I edited a :30 video of one of these moments, complete with surrealistically incongruous background music that's blaring from the stage speakers.
Finally, I got this text message:
Protests force cancellation of closing ceremonies. Torch on the run, on freeway headed towards the airport.
I hightailed it out of there. Call me old-fashioned, but I didn't want to get trampled to death when the masses heard the news.
Many headlines focused on the anger and disappointment felt by some of the crowd, who asked only for the opportunity to see the Olympic flame. (Some of those people harangued me on BART on the way home.) Had torch-viewing been my sole objective, I'd probably have been disappointed too, though I hope I would have concluded that Constitutional and human rights are ultimately more important. Others say that the Olympics and "politics" are unrelated to one another; in my mind, that argument has semantic and practical problems. In any case, when the world is looking at China because of the Olympics, it's a good time to speak out. Sadly, I can't imagine it resulting in an improvement in China's policies but it may boost awareness of the situation.
3 Responses to "The Holy Grail"