Aug 23 2016
Even though the Costa Rica trip is weeks away, I have my suitcase out on the floor of my bedroom with bunch of things piled around it. It's not all going to fit. What will I do?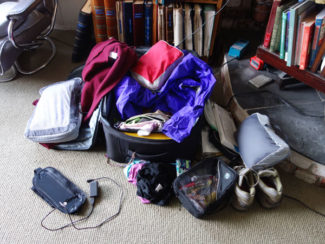 I have a bigger suitcase that I could take, but that'll make it harder to zip around the country, so I'd rather not do that. But I really do need things like:
Yellow rubber dry bag
Hawaiian sarong
Binoculars
Illuminated jewelers' loupe
Electric water boiler
Notebook
Umbrella
Wireless keyboard
A couple pints of bug spray
Seven shirts
Four pairs of pants
Two bathing suits
You get the idea
I'm worried about a few things: getting up into the treehouse by ropes, rafting on the Rio Pacuare and staying in the boat, and rappelling down waterfalls, dragging my suitcase back and forth across the country.
This is what the travel agency says about the canyoneering:
This Arenal, Costa Rica canyoning adventure tour will take you where very few have had the privilege to roam: The Lost Canyon! Grab your helmet, strap on a harness and get ready for the adventure of a lifetime! Canyoning is a very popular activity in La Fortuna because the rugged, mountainous terrain near the Arenal Volcano. The perfect place for first-timers and experienced canyoning enthusiasts. Trek deep into the rainforest and rappel some of the most-impressive tropical waterfalls in Costa Rica in the Lost Canyon.
Today I went to Wells Fargo and got 330 dollars' worth of colones. For your information, the grand total of colones is 165,000. It's always hard to figure out the money when you're in another country, especially if you have a bad math brain as I do. The teller told me that the exchange rate is 0.0020025633. What the hell is that supposed to mean? To put it another way, $1 is 550 colones. A thousand colones is $1.82.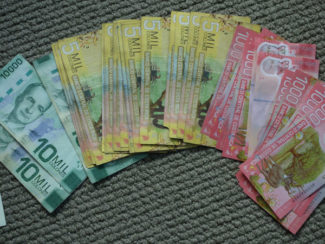 On an unrelated note, I got my first social security payment a couple weeks ago. Now when people ask what I do, I can say I'm retired. But I can't be retired because I need more than $720 per month. That hardly covers the basics like champagne.
In other news, I have absolutely no news. My life is very dull. Minutes creep by like hours. In an hour or so, I'm going to visit Anna and Frank, at whose house I will drink Frank-made margaritas and play board games.  On Thursday I'm going to visit TJ and Richard. Tomorrow I have my teeth cleaned. At 8:30 Thursday morning I have a Kaiser appointment.
Oh, I did have a wonderful visit with each of my girls: first with Molly last Saturday. We got our toenails a matching shade of opalescent royal blue, and we talked about our trip. On Sunday afternoon, I got all four of the Redwine-Papanikolas clan, for fun and chaos.