Jul 11 2019
To make navigating easier, here are my Iceland entries, in order:
Jul 12 2019
Sunday, July 7, 2019
In Icelandic, a profoundly complicated language, you have to change the case endings depending on whether you're talking to a male or a female. Vertu Sæll (pronounced "vashtu syte-luh," more or less) is goodbye spoken to a man. And so it is with sorrow that I bid farewell to the men and women of this wild place. It's been such a short visit.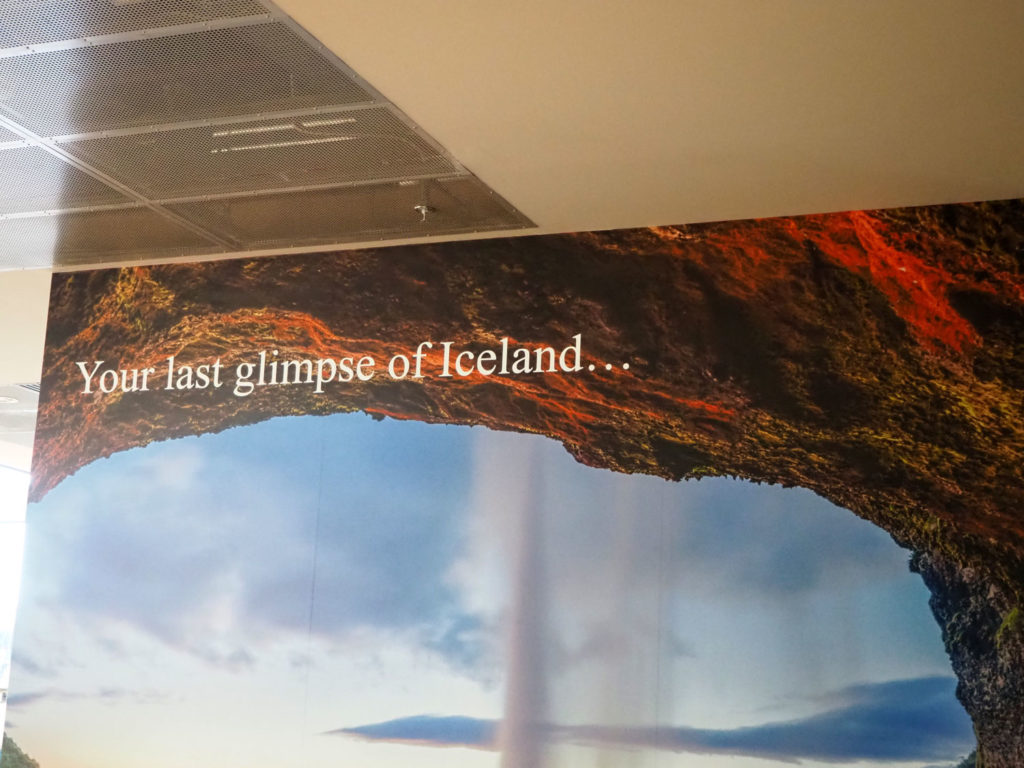 I managed to sleep all the way till 7:15 this morning, the first time I've gotten up after 6:00. Seems I've adjusted to the time zone just in time, hours before I head home. I drank two cups of my PG Tips tea with some ultra-pasteurized G-Mjólk that comes in a little box, and followed that with part of a Naturfrisk organic ginger ale.
It was a balmy 57° in Reykjavík this morning as we headed out at 10:30 with laden suitcases in tow (I was afraid mine exceeded the plane's 50-pound limit, but apparently not), rolling our way toward City Center 101 Bus Stop #1. We went to Bergsson Mathús for breakfast: scrambled eggs and thin, crisp bacon on a slice of toasted sourdough.
A little before noon we arrived at the bus stop. A medium-sized FlyBus picked us up. We slung our suitcases onto the rack and got all comfortable for the long ride, but five minutes later, the driver stopped at the BSÍ Bus Terminal and said something in Icelandic, whereupon all the passengers exited the bus. We followed the others and transferred to a huge, mondo bus that arrived at Keflavík 45 minutes later. Not a scenic drive. Lots of industry out that way.
We arrived at the airport at 1:15 for our 5:00 flight and killed time shopping in the duty-free stores. We ran into Molly's friend Douglass, who had been touring Iceland for two weeks in a camper van, staying on California time all the while.
Boy, flying is so high-tech now. Instead of checking in with an attendant, it's all automated, which confuses me. I had to ask for help in signing into my flight and getting my suitcase headed in the proper direction. Our plane, arriving 45 minutes late, took 9.75 hours of boring. I read a lot of Eleanor Oliphant Is Completely Fine (a strange book indeed), listened to music on my iPad, and watched the flight-tracker screen on the seat back in front of me. Shortly after takeoff we began to fly over a snow-covered mass that was Greenland, with hundreds of dramatic, blue-based icebergs strewn about the sea offshore.
In San Francisco our bags took a full 1.5 hours to appear, but eventually we made our way out to where the Lyfts pick up riders. Hugging Molly once, twice, thrice at the curb, I got in the car with Roberto from Brazil, who spoke only enough English to inform me that he had been driving nonstop for the past twelve hours and was very sleepy. To keep him awake as we made our way through an unusually free-from-traffic highway in the dark, I chatted about this and that, speaking very slowly. Safely home at 9:30 p.m. Wired from the trip and too tired to sleep, I began to unpack. Check this out: here is a stack of the stuff I packed but never used. There's a lesson in this, but don't ask me what it is.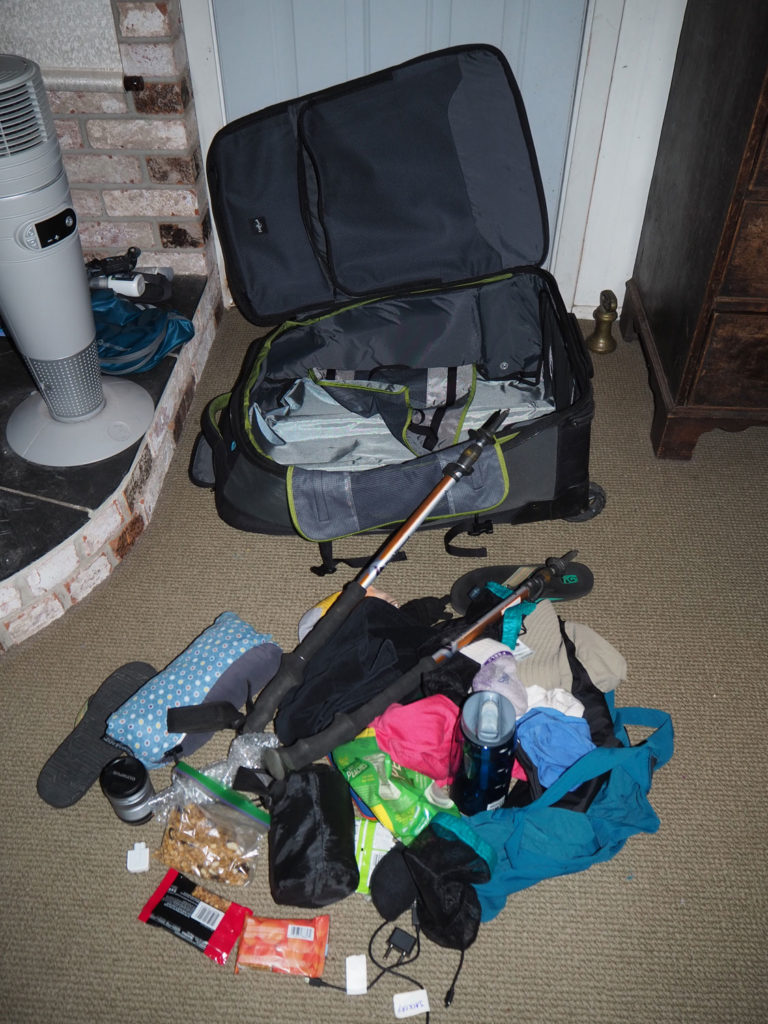 Got to bed close to midnight and dreamed that Mom and Dad met me on a particularly wild and craggy cliff in the Westfjords, they looking lost and confused. I was with a hiking tour and was embarrassed to have my baffled parents there so I largely ignored them when they clearly needed my help. The leader of my tour was very tall, like my 6'8″ father. I acknowledged my pa with only a "Hi, Dad. My, you're tall." I didn't pause to greet or hug him, as I get to do in dreams sometime. And then I ignored Ma equally. I woke up sad and regretful that I hadn't been kinder to my poor, lost parents.
And that's the conclusion of my Icelandic saga. I am so glad I didn't let my fears prevent me from going. It was a challenge, keeping them under control. I'm so glad I went, and I'm also glad to be back.
So there the end love Ginna. (That's how I used to end all the stories I wrote when I was in the single digits.)
Jul 11 2019
Saturday, July 6, 2019
I got up at 5:40, drank tea and showered, all the while trying to be quiet so I wouldn't wake up Molly. At 8:00 I called the guy at NiceTravel and learned that we had to be at the City Center Bus Stop #1 in half an hour, not 9:00 as it said on their website, since it was their first of many pick-up spots.
The Golden Circle is as crowded as the Westfjords is remote. They couldn't be more opposite in that regard. But, desperate for more of the natural world, we wanted to see some of the advertised sights: geysers, falls, a crater. I was expecting, and found, crammed parking lots, huge buses and hordes of people, a very different group than we found in the northwest.
Our first stop was Þingvallavatn, a giant lake partly in Þingvellir National Park (a UNESCO World Heritage Site) that is home to bleikja, or Arctic char. The fish have been so isolated for so long from other char populations that they have developed four distinct subspecies, found only here. It's a sprawling body of water that's as much as 114 meters deep.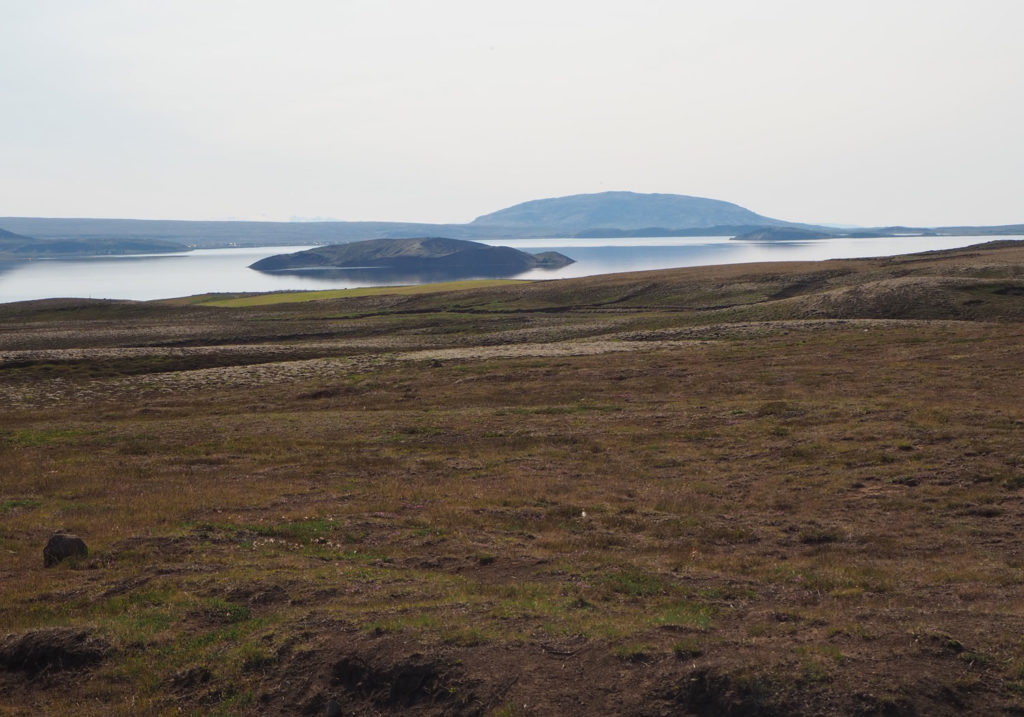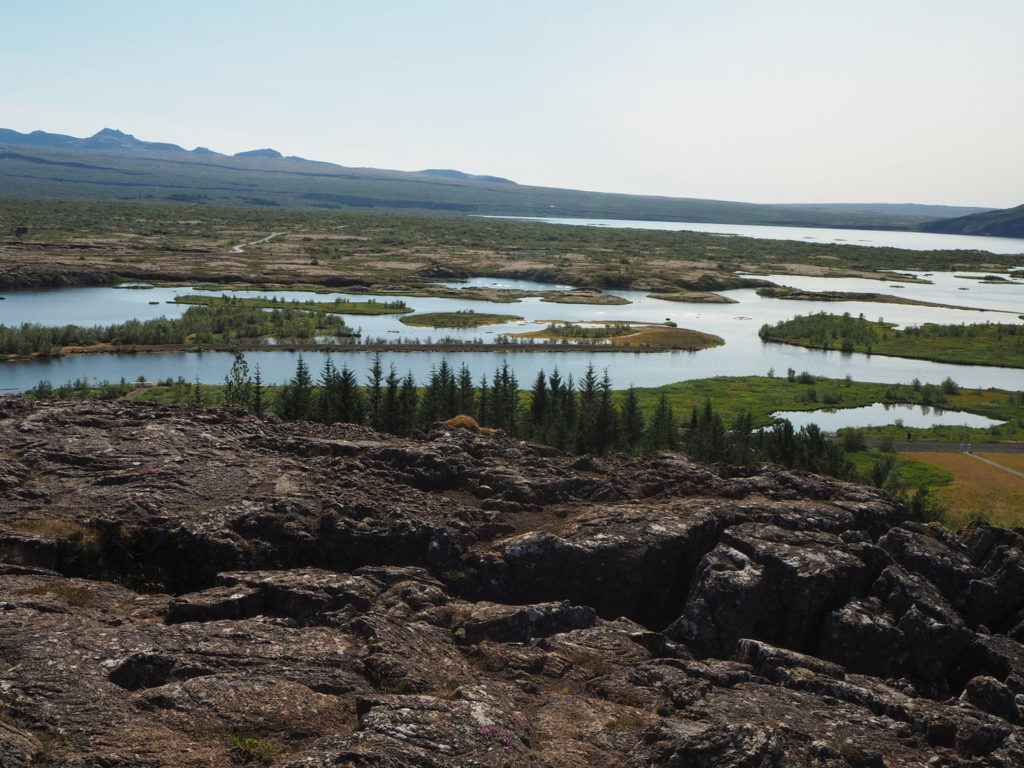 Þingvellir is a place of both geological and historical importance. We walked along a narrow canyon between two cliff faces, right at the junction of the North American and the Eurasian tectonic plates. I read that the gap between these plates grows two centimeters a year.
A little farther along we came upon a natural arena where the Vikings (whom our guide, Einar, quaintly pronounced Wykings because I guess there's no "v" sound in Icelandic) used to hold parliament (Alþingi) a thousand years ago. It was here, in about 1000 AD, that the Wykings decided officially to abandon paganism and the Norse gods and convert to Christianity.
The Vikings were brutal suckers. If you transgressed, you'd get drowned in what is now known as The Drowning Pool in the river a little below a waterfall.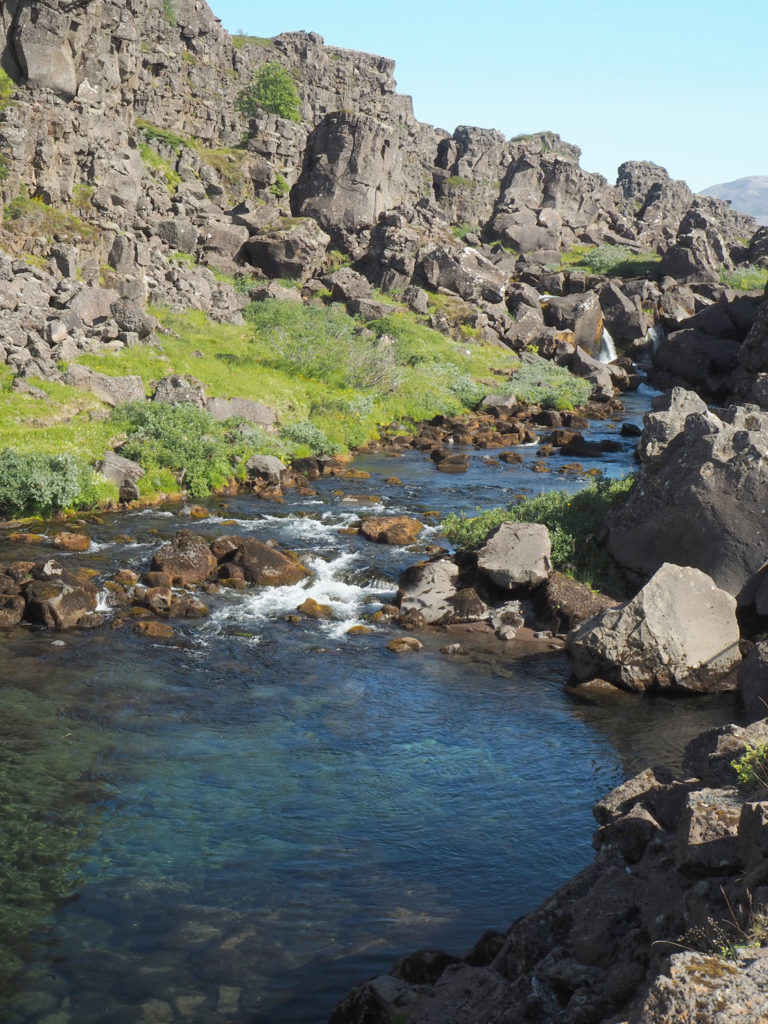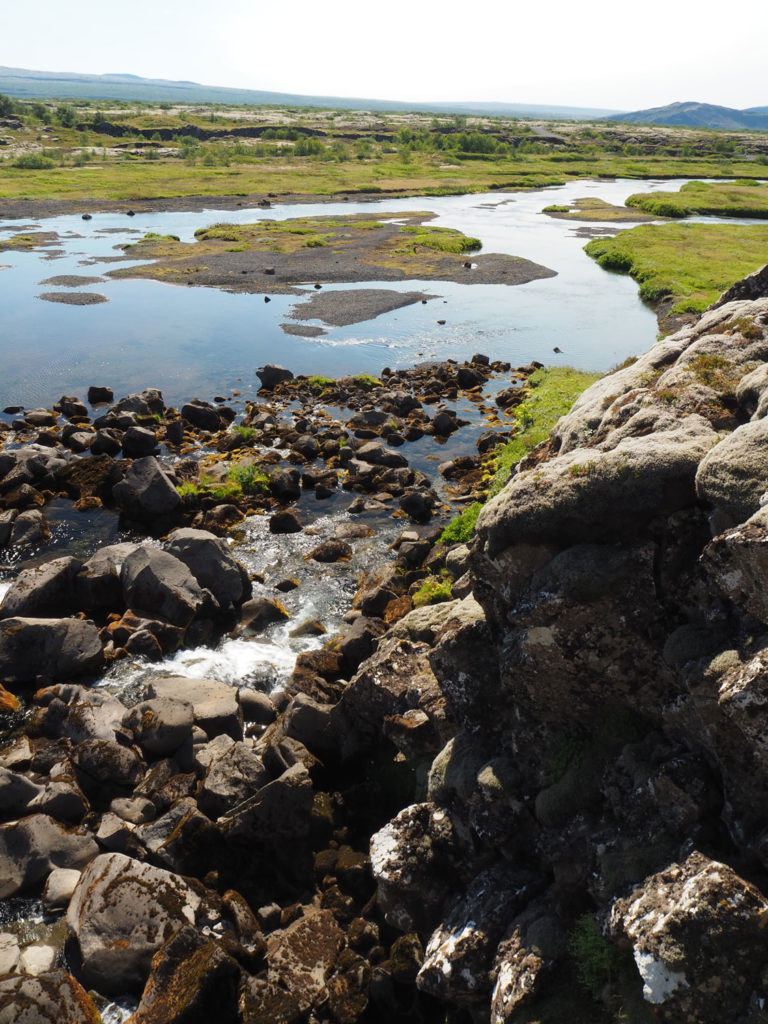 And here's the Oxara waterfall, which, according to Einar, was flowing at about a third of normal capacity.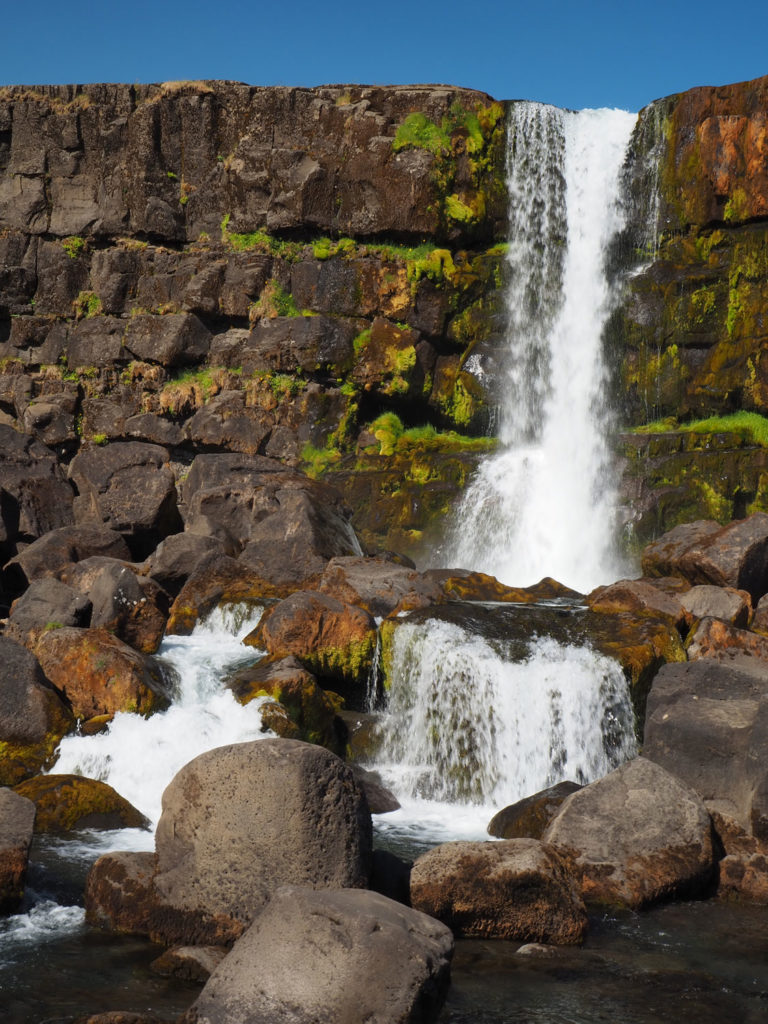 Here's the river beneath the falls: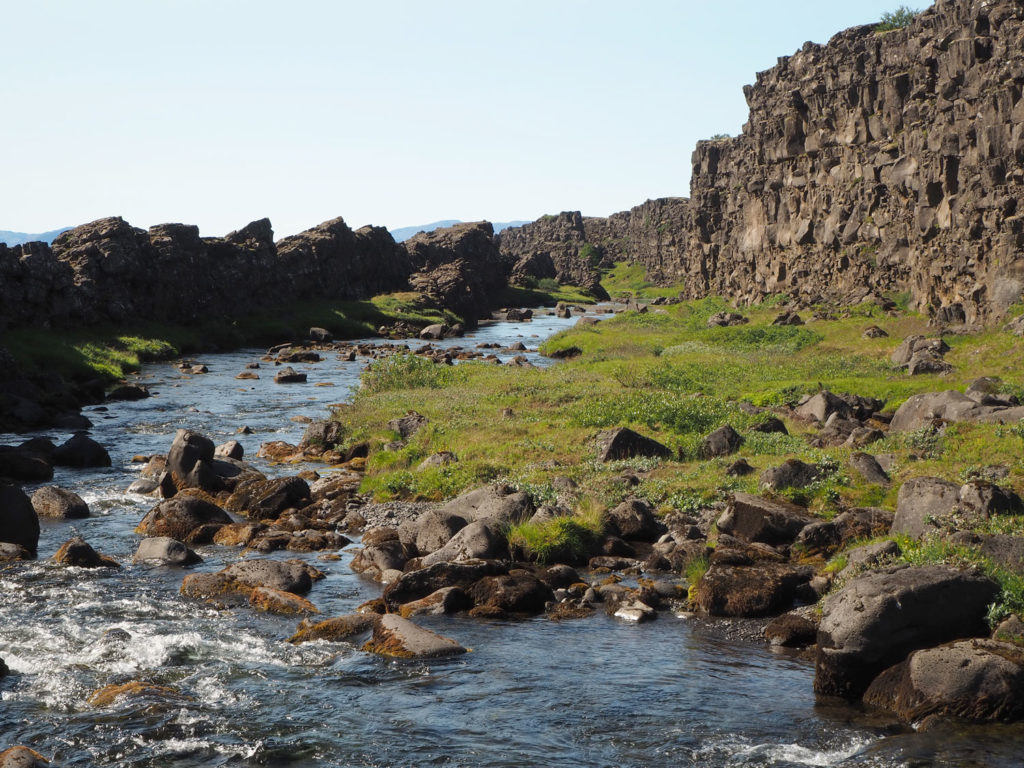 Onward, to Geysir. The biggest geyser, Strokkur, erupts every five or ten minutes. The first time we watched, we turned out to be downwind, and were startled and amused to get a faceful of sulphur water.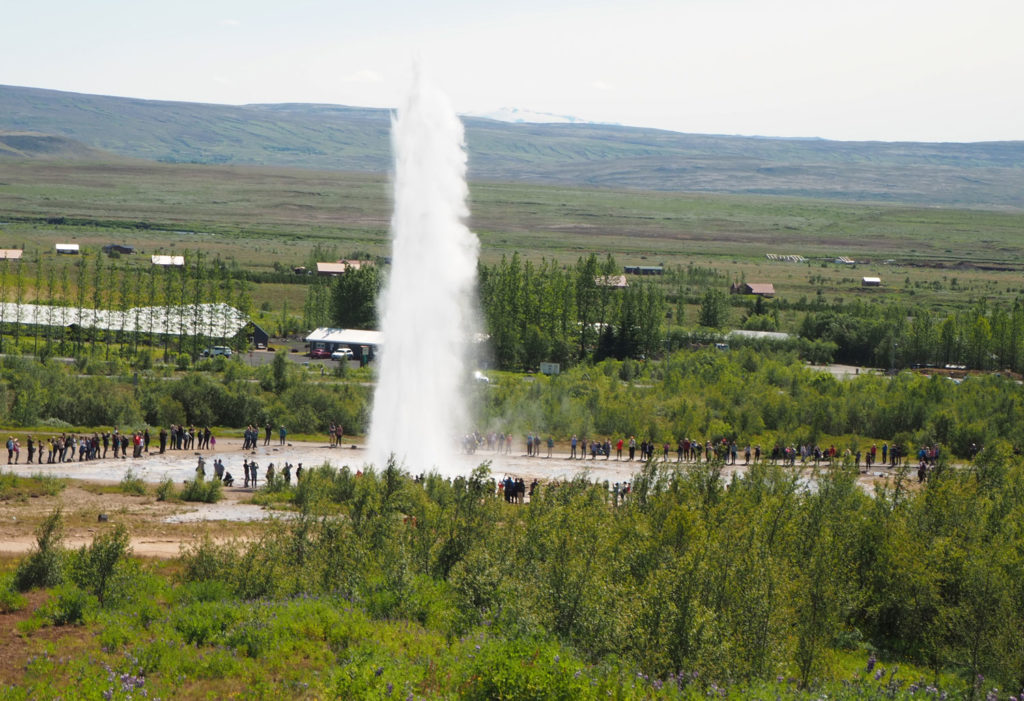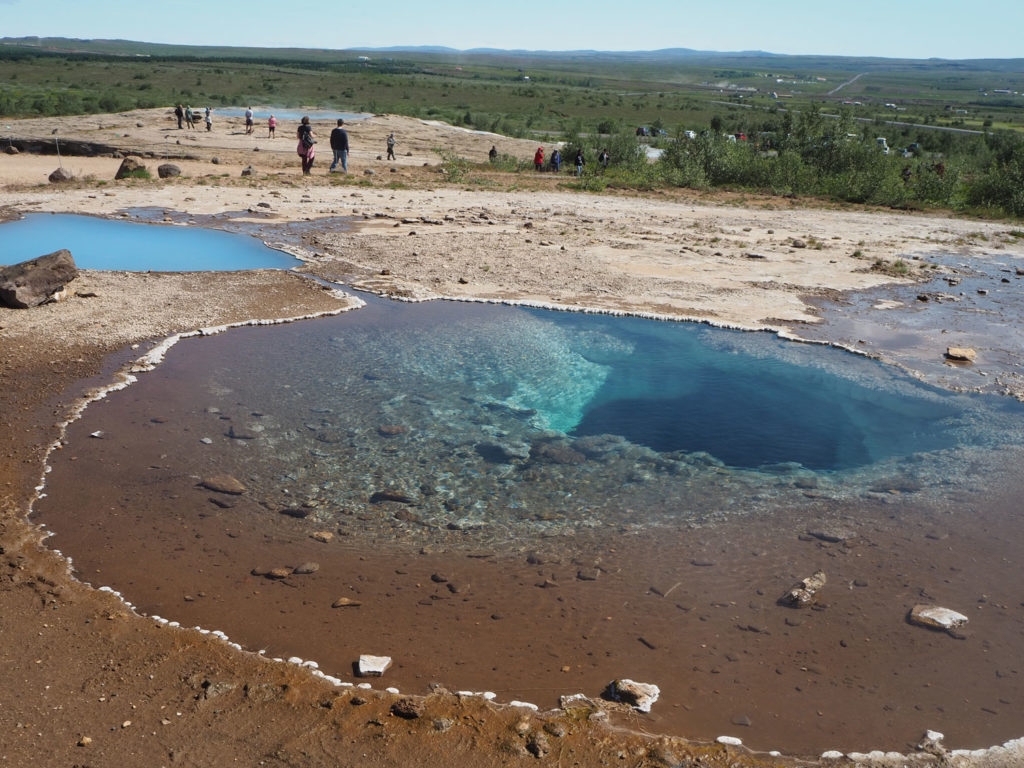 This is Litli Geysir: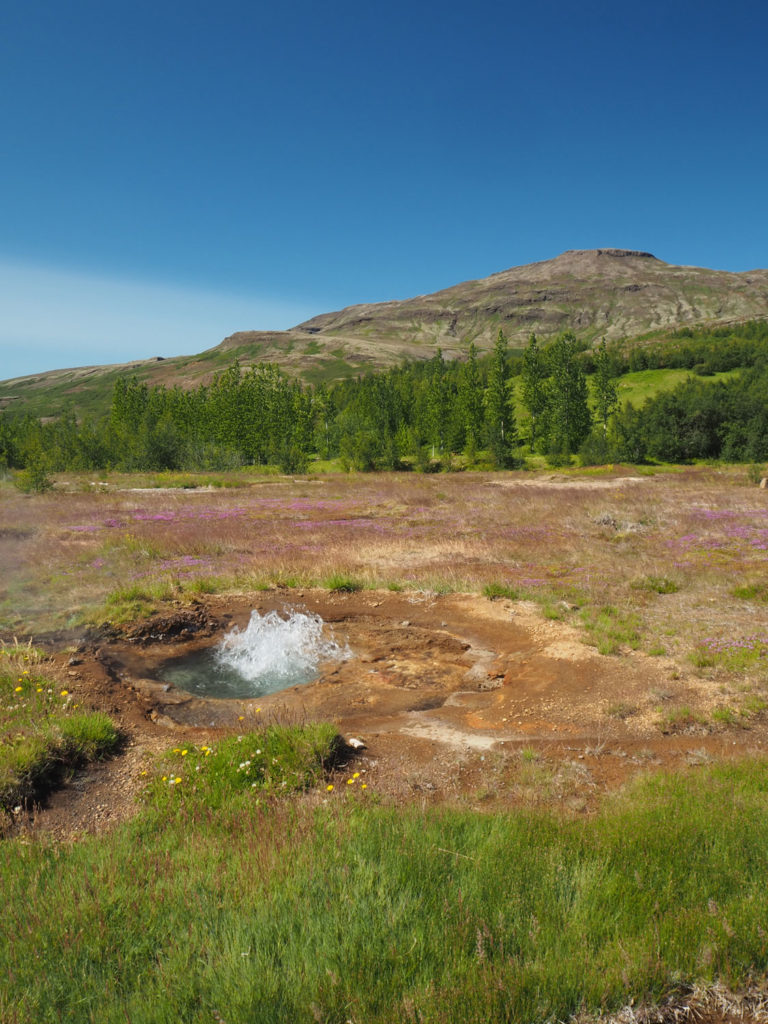 It was actually warm enough, when walking today, to take off our jackets for little stretches of time. At the Geysir restaurant, we had a delicious bowl of creamy lentil soup that cost $20.
Back into the van and onto Gullfoss (Gold Falls, named thus for one of several possible reasons, and no one knows which is right. Two possibilities: because the mist turns gold in certain lights, or because someone threw a pot of gold into the falls so that no one else would get it. You decide.)
The water was grey, silty and ferocious. Some idiots were climbing up an un-trailed, unfenced area on the opposite side of the river, where the grass slope is steep and slick with water from the falls, and where one false step would be their last. Our driver Einar turned away saying, I can't watch. Not only were these fools putting their lives seriously at risk, but they were ruining the view for everyone else. Here's the vista before that.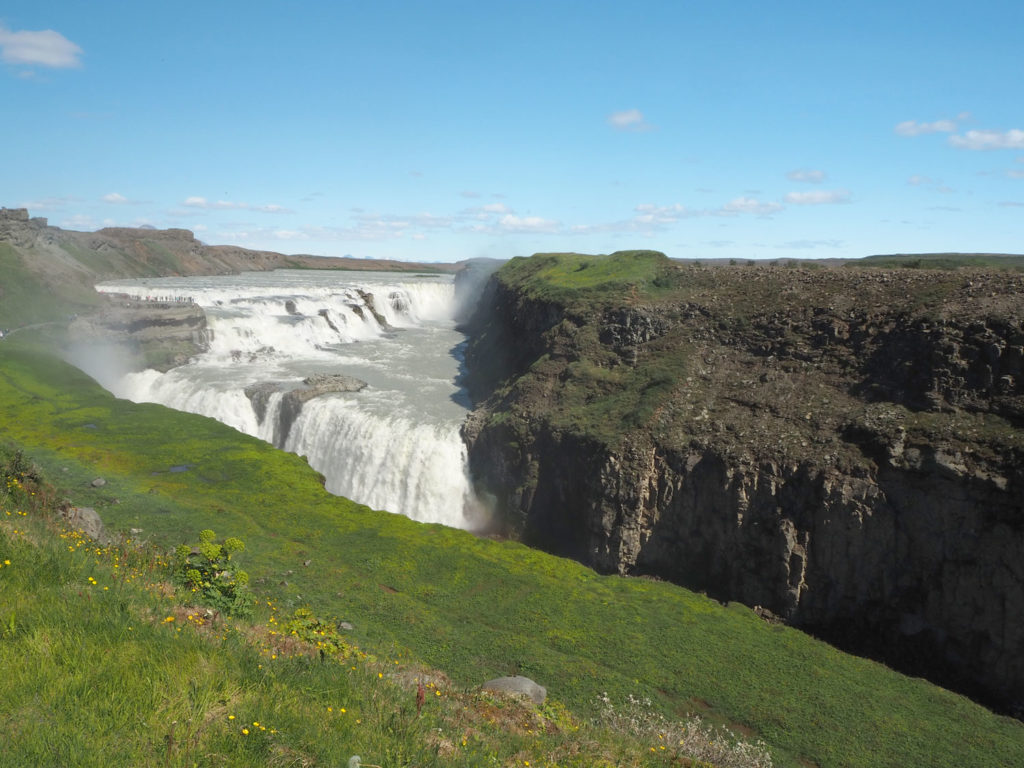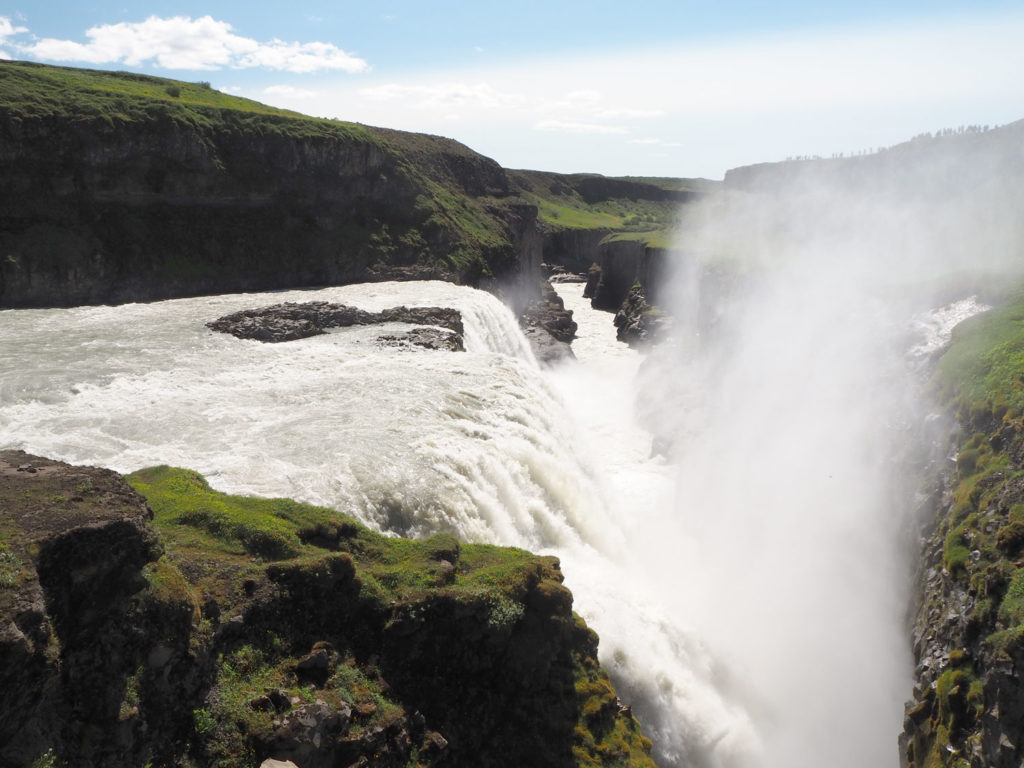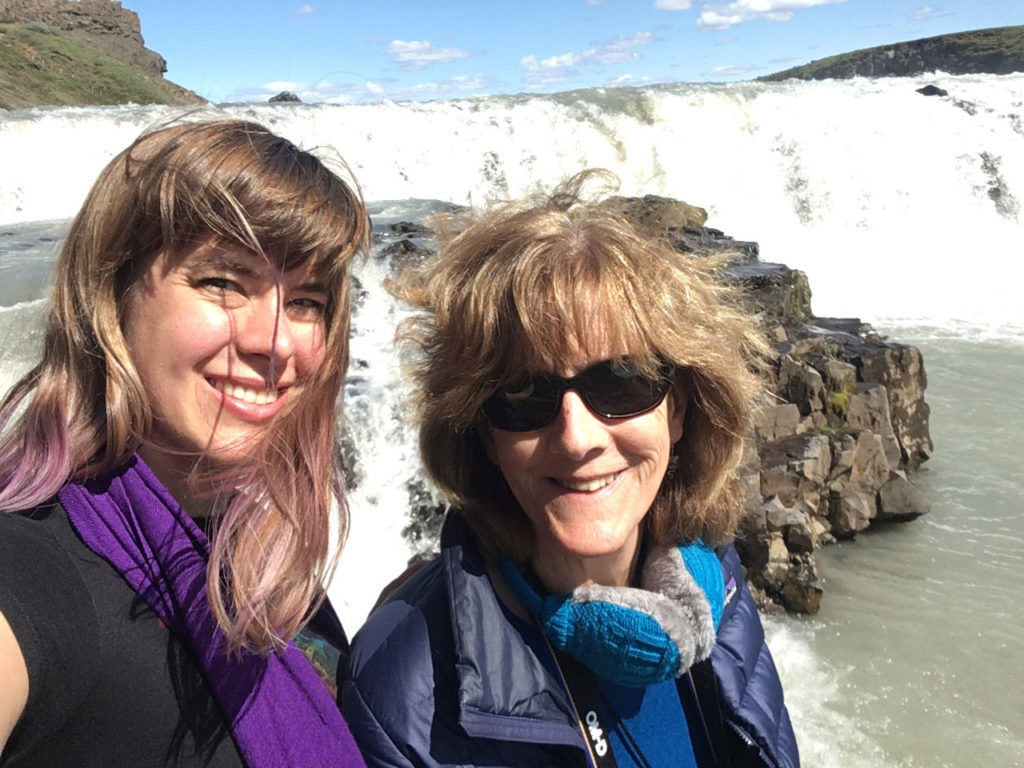 We reached our final stop, at which we arrived almost an hour later in the afternoon than scheduled due to our tardy van-mates, whom I dubbed The Selfish Seven. On every tour, there's at least one person who is a dickhead. This time it wasn't an individual. It was a large group of kids and adults that, at every stop, was ten, 15, 20 minutes late back to the van, keeping the rest of us waiting in the muggy heat of the closed vehicle. Every time they were the last back, they would applaud at their tardiness. There were five stops throughout the day, and their lateness increased each time, so that on the last one the mother, always the last back on the bus, was a half hour late. If looks could kill there would have been a murder that afternoon, as I shot her my most hateful glare. Never an apology or other acknowledgment of their selfishness. Tours make me cranky. But aside from that, it was a successful day.
Here is our last sight, the Kerið Crater: 6500 years old with (as you can see) a lake at the bottom that changed colors depending on the vantage point, from turquoise-green to almost brown. The water doesn't drain out, but instead rises and falls instead with changes in the level of the water table in the area. We walked down to and around the lake, and then up to the rim and around that.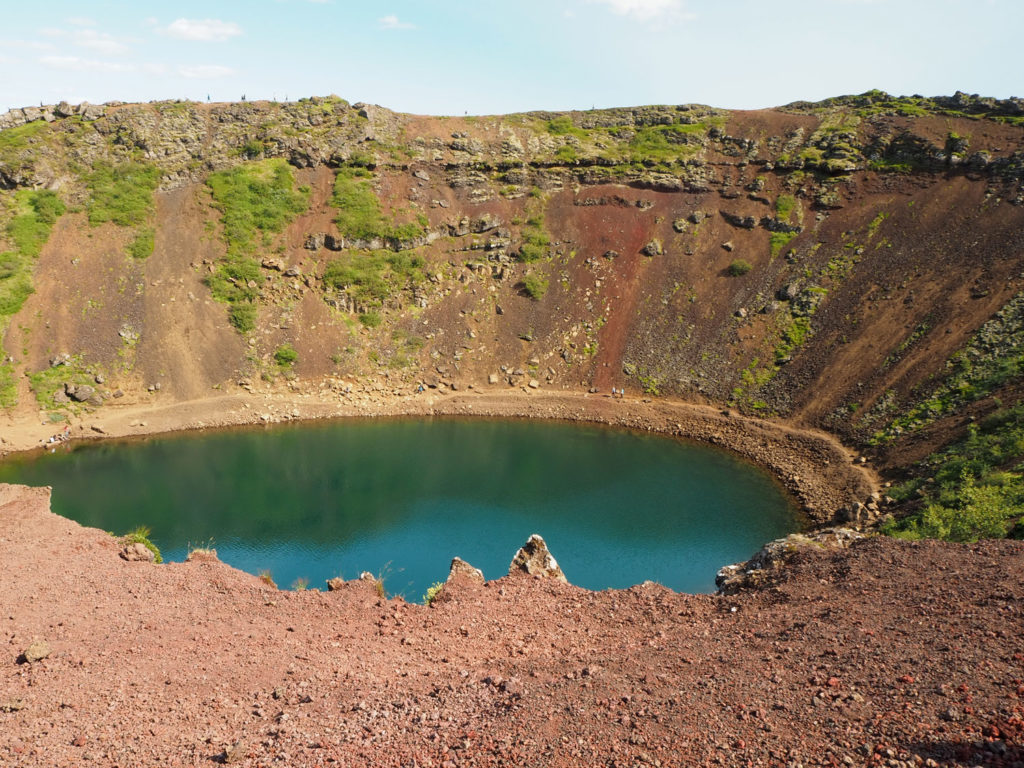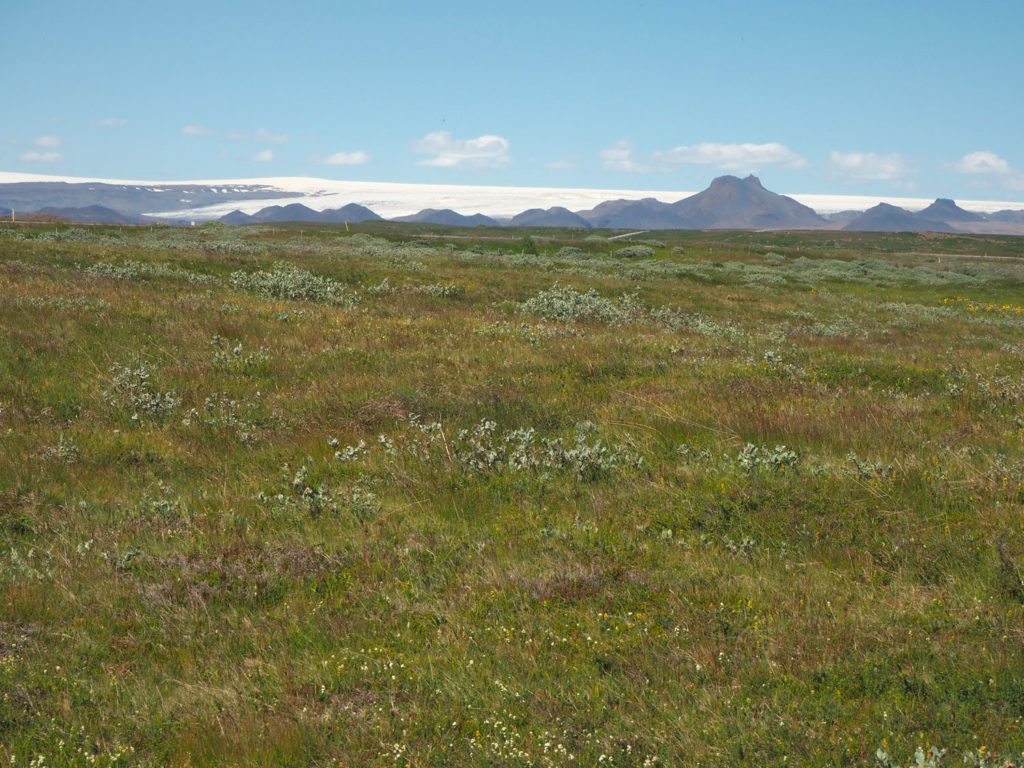 There was a fair amount of walking today. Molly's phone app, when we got back, suggested it was 6.2 miles.
First on, last off: reaching Reykjavík, we stopped at five different drop-off spots before reaching ours at City Center. Walked to our room for an hour, and then returned to town, Ginna with tired legs, for our 7:30 dinner reservation at Tapas Barinn, at which Molly had eaten on her last trip here. On the way, I identified with this sculpture.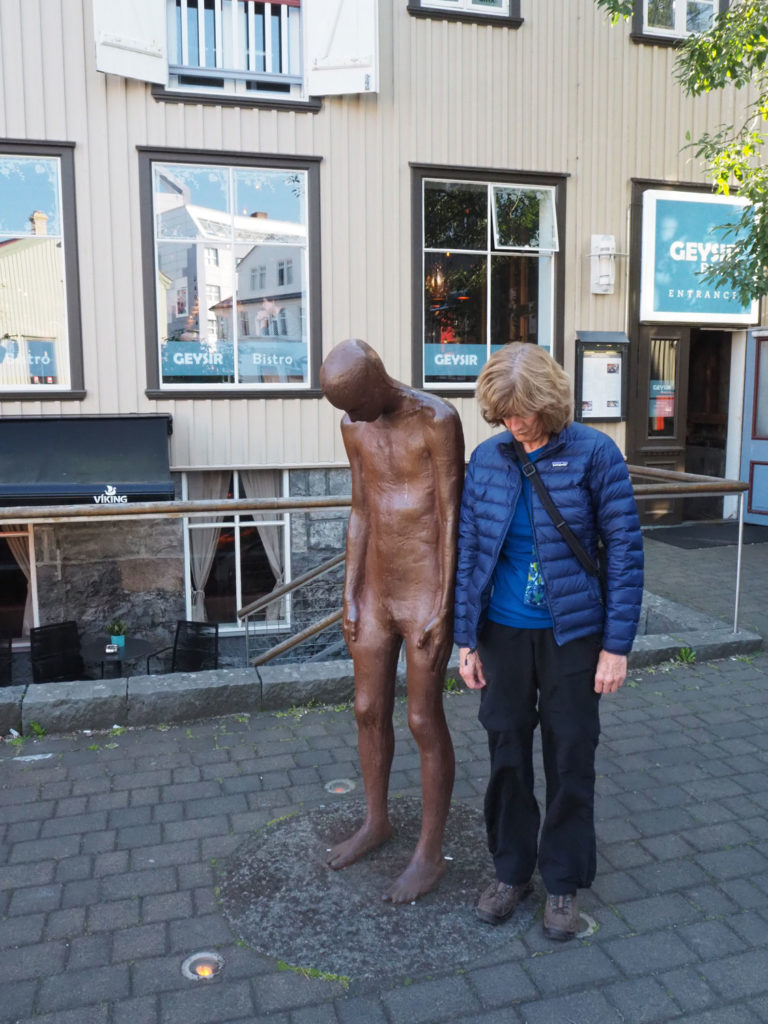 The restaurant was packed and noisy, hopping with mostly young people in their 20s and 30s. I've never eaten a longer dinner. We chomped our food from 7:30 to 9:45, when Molly finished up a rich chocolate mousse. She ordered a tasting menu with seven different mystery tapas of the chef's choosing. She ended up with quail, raw-ish tuna, beets, shrimp, raw-ish beef, scallop and bacon in a weird froth, and one other thing. I, being very picky, carefully chose two plates that didn't offend me: salmon with red pepper sauce, and lobster orly, which was deep-fried in an airy but rich batter. I couldn't eat it all. I ordered a daiquiri, certain it would not have fresh ingredients, since how could there be strawberries in Iceland? But I could swear that those berries were indeed fresh. They do have greenhouses all over, heated with geothermal energy, so maybe. The dragonfruit on the top was delicious.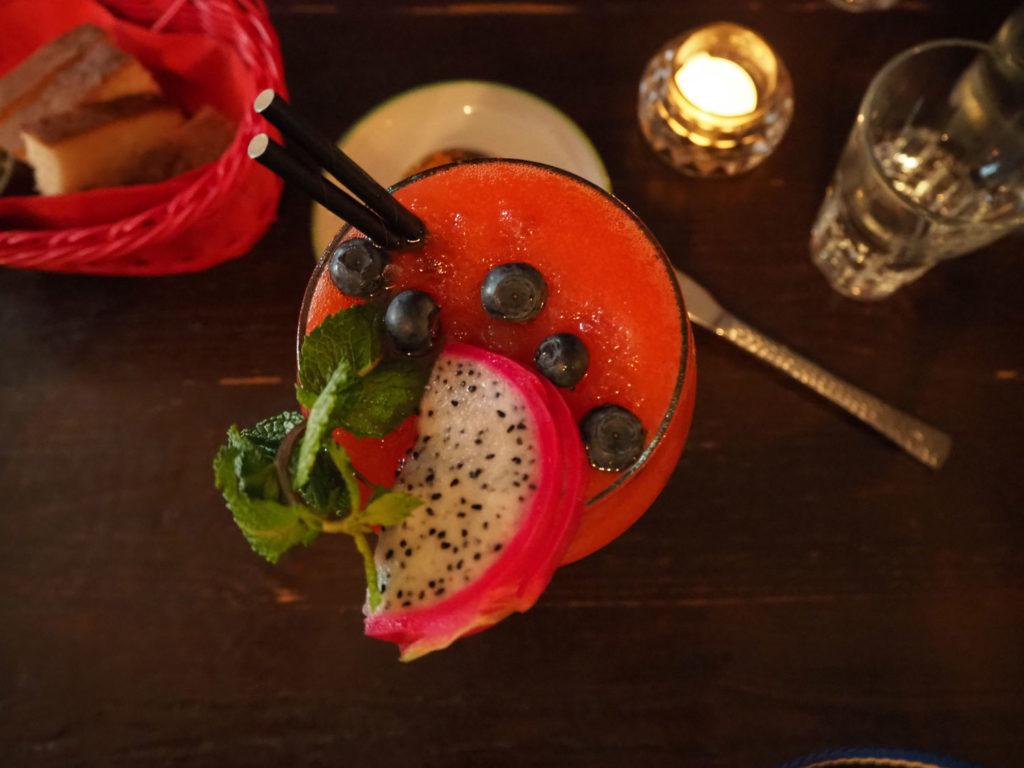 On our return to the room, I packed, had a brief video chat with my beloved granddaughter Ember in California, and wrote two TripAdvisor reviews: for NiceTravel and the Hótel Látrabjarg. Bed at midnight.